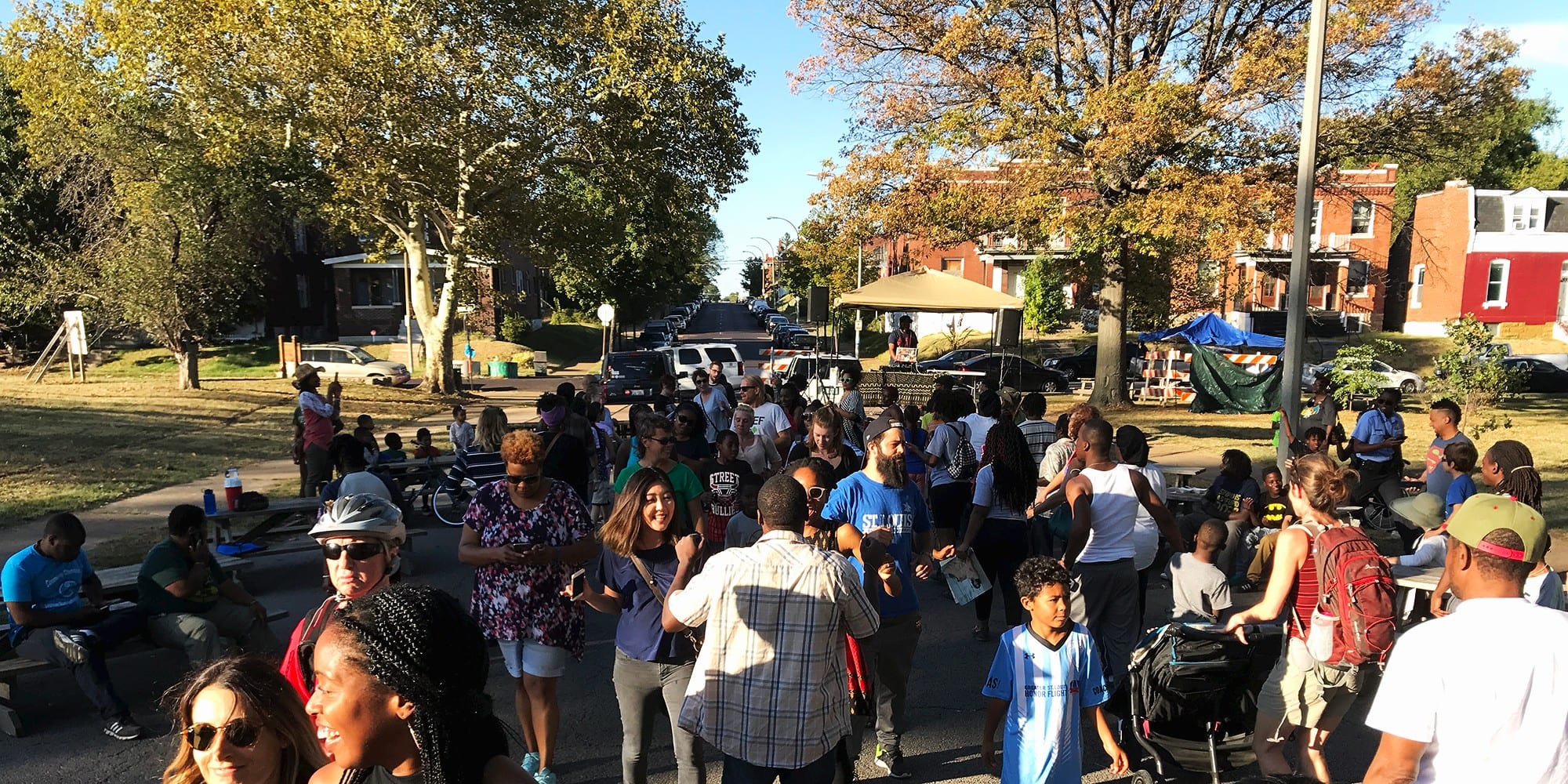 Welcome to September in Dutchtown! We already have a packed calendar, but make sure to check our calendar, sign up for our mailing list, and follow us on Twitter, Facebook, and Instagram to stay up to date on the latest news and events as we are always adding stuff to do.

Common Sound Festival
Join Dutchtown South Community Corporation for the second annual Common Sound Festival at Marquette Park on Saturday, September 29th. Come down for food and craft vendors, free professional dance workshops, live DJs, and performances all day long.

Neighborhood Meetings
The Gravois Park Neighborhood Association meets on Tuesday, September 11th at 6pm at the old Jefferson Bank building, 3353 California just north of Cherokee.
Dutchtown West's monthly meeting is also on Tuesday, September 11th, at 7pm in the banquet hall at Grbic Restaurant, 4071 Keokuk.
The Marine Villa Neighborhood Association meets on Monday, September 24th at 7pm at Irish Corner Pub at Cherokee and Lemp.
Mount Pleasant holds their quarterly meeting on Wednesday, September 26th at 7pm at the Gretchen Inn at the Feasting Fox.
All four neighborhood meetings feature updates from the Aldermen, police liaison officers, and Neighborhood Improvement Specialists.
The Cherokee Street Business Association meets at Nebula on Thursday, September 20th at 5:30pm. Business and property owners, residents, and anyone with an interest in Cherokee Street is encouraged to attend.
Dutchtown CID
The Dutchtown Community Improvement District's committees will now meet quarterly starting with September's meetings.
The Maintenance and Beautification Committee meets on Thursday, September 6th, 5:30pm at the office of architect Tony Duncan in the old Stork Inn at Virginia and Idaho.
The Marketing and Development Committee meets on Thursday, September 13th at 6pm at the Original Crusoe's Restaurant at Compton and Osceola.
The Safety and Security Committee meets on Thursday, September 20th, 5:30pm, also at Crusoe's.
The Board of Directors will continue to meet monthly. Their meetings are at Urban Eats Cafe at 5:30pm on the fourth Thursday of each month.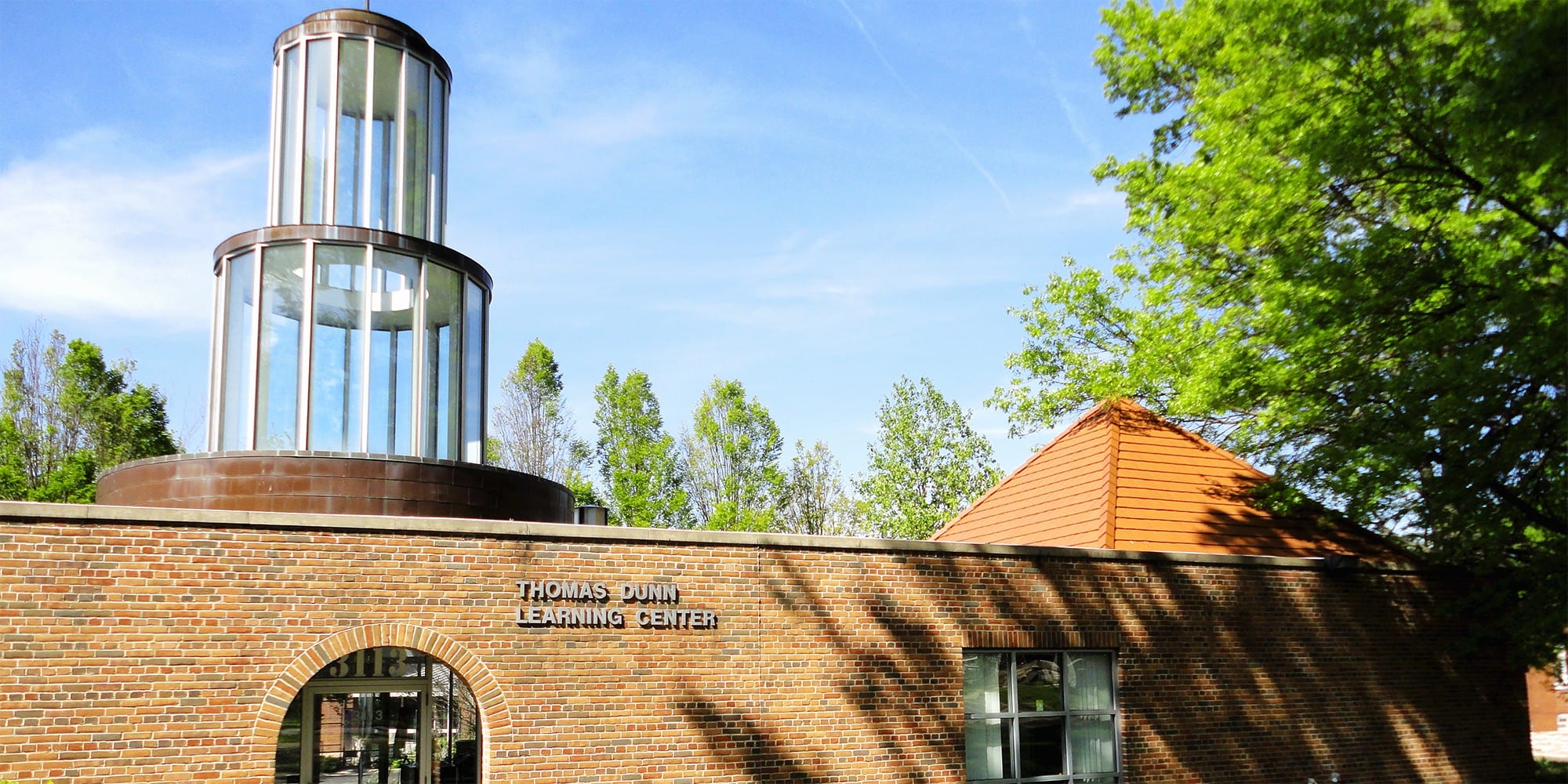 Thomas Dunn Learning Center
Money Mondays are back at Thomas Dunn Learning Center. Sit down with experienced staff to discuss basic household budgets, credit, banking, and getting ahead financially. Staff is available every Monday 4–6pm (except Labor Day, September 3rd).
Also every Monday at 7pm Thomas Dunn hosts Practicing Mindfulness: Introduction to Meditation. Discuss and practice different meditation techniques. Come early for dinner or stay late for Laughter Club.
Witnessing Whiteness is a program that allows people to come together to do work around racism in a supportive, non-threatening setting, learning to speak about race and racism,  and exploring white privilege. The group meets on Thursdays at 6pm.
The fall session of Thomas Dunn's HiSET (High School Equivalency Test) program begins soon. Come by on Wednesday, September 5th from noon to 1pm or Thursday, September 6th from 7pm to 8pm for an orientation to find out if the program is right for you.
Sip 'n Sketch is Wednesday, September 12th at 7pm. All skill levels are welcome to a live drawing workshop where participants will have a chance to work with various materials and techniques. Materials are provided but BYOB.
Oktoberfest
Celebrate Dutchtown's German heritage during Oktoberfest, the German festival which runs from late September into early October.
The Fortune Teller Bar on Cherokee Street marks Oktoberfest on Tuesday, September 25th with a Bavarian themed happy hour in support of Habitat for Humanity St. Louis. Enjoy plenty of beer and sausages from The Cut while supporting the Dutchtown-based non-profit.
The Feasting Fox hosts an Oktoberfest edition of their popular five course beer and wine dinner on Friday, September 28th. Their big Oktoberfest celebration will take place all day on Saturday, October 6th.
Game Nights
Check out either or both regular game nights around the neighborhood. Play your old favorites, try a different game, and make new friends.
Earthbound Beer hosts the St. Louis Area Board Gamers for Earthbound Gaming on two Wednesdays each month. In September, join them on the 5th or the 19th at from 6pm to 10pm.
The St. Louis Board Game Meetup Group gathers at Urban Eats Cafe a couple Fridays every month. This month they'll be there on the 14th and the 28th from 6pm to 11pm.
More Happenings in Dutchtown
Teatopia, at 2606 Cherokee, hosts a story time every other Saturday. In September, those dates are the 1st, 15th, and 29th.
Cats n' Mats Yoga returns to Tenth Life Cat Rescue on Wednesday, September 5th. This yoga class is open to all skill levels. Tickets are $15, with the proceeds going to help fund Tenth Life's operations. Find tickets and more information at the Facebook event page.
The Cherokee Street Community Market returns to Love Bank Park on Wednesday, September 12th from 4:30pm to 8pm. Find fresh produce, hot food, art, music, and more.
Fiestas Patrias 2018 is Saturday, September 15th on Cherokee Street between Iowa and Nebraska. Celebrate Mexican Independence Day with live music, dance, food, and drink from noon til 10pm.
DT2's monthly After Hours business happy hour is co-hosted by Urban Eats Cafe and Thorn Studio in September. Come on down to the cafe on Wednesday, September 19th at 5:30pm.
The South City Sipsters meet at the Feasting Fox on Thursday, September 20th to sample beers and wines. Also at the Feasting Fox from the 20th through the 22nd, you can preview their fall cocktail menu featuring ten new drinks.
Dutchtown South Community Corporation's Community Empowerment Committee meets Wednesday, September 26th at 6pm at Thomas Dunn Learning Center to continue their work on housing issues and tenant organizing. Dinner and childcare are provided.
Intersect Arts Center is launching a new after school art mentorship program on September 10th called Art-Ventures. The program is for kids in 2nd through 5th grades and is offered on either Mondays and Wednesdays or Tuesdays and Thursdays. The cost is only $10 per month. Visit Intersect's event page to see some of their other art and dance classes and workshops for both kids and adults.
Perennial offers classes throughout the month demonstrating creative reuse, crafting, building, and more. Visit their website for a full listing of classes and workshop dates. On Thursday, September 20th, they'll be kicking off their eighth annual Lost + F(o)und fundraiser with Pies for Perennial. Learn more about the organization and the fundraiser and help pick St. Louis's best pie.
KAMP hosts a number of classes and events in their space at Jefferson and Cherokee. Hip hop dance classes continue on Friday evenings through September 21st. Their four session nature and landscape photography course begins on Tuesday, September 11th.  Yoga for Kids is the morning of Saturday, September 15th. Visit their website for additional classes and events.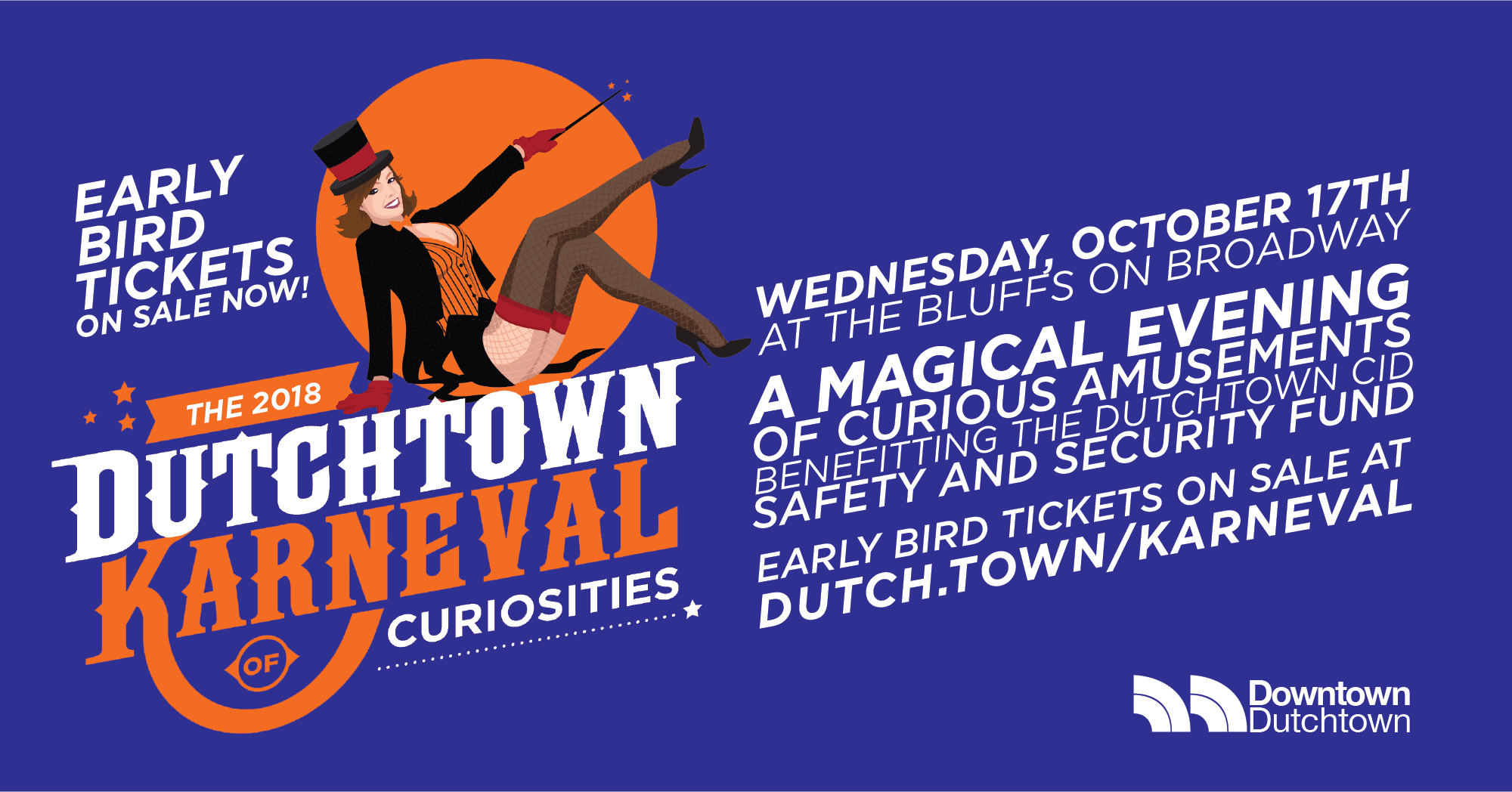 Save the Date: Dutchtown Karneval of Curiosities
The Dutchtown Karneval of Curiosities, DT2's biannual fundraiser, is October 17th at the Bluffs on Broadway. Specially priced Early Bird tickets are available through the first week of September. Join us for an evening of drinks, food, burlesque, drag, games, unique auctions, and more! Tickets are available on Eventbrite.
---
Don't forget to check our calendar for updates, sign up for our mailing list, and follow us on Facebook, Twitter, and Instagram. If you have an event in Dutchtown, Gravois Park, Mount Pleasant, Marine Villa, or Cherokee Street that you'd like us to share, please contact us or email info@dutchtownstl.org.