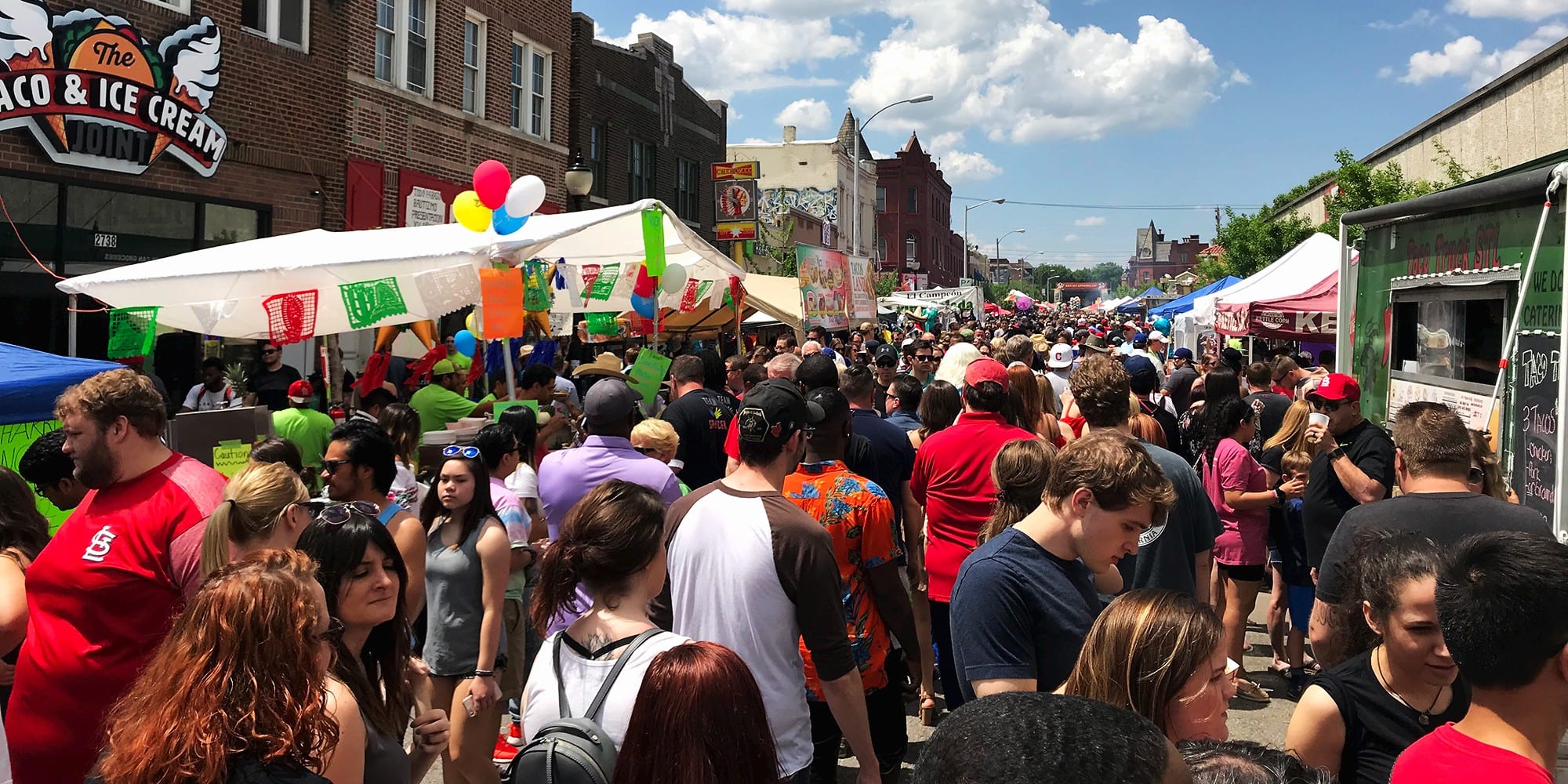 There's big things going on in the neighborhood in May! Start the month with the Cinco de Mayo festival on Cherokee Street. Finish off may with a busy Memorial Day weekend featuring the Dutchtown Bike Tour, Marquette Park pool opening, and the Cherokee Caravan.
Make sure to check out our calendar for new events, and follow us on Facebook, Instagram, and Twitter for even more updates.

Cinco de Mayo on Cherokee Street
The annual Cherokee Street Cinco de Mayo festival is Saturday, May 4th from 11am to 10pm. Dozens of vendors and food trucks will line Cherokee from Nebraska to Jefferson. Three stages at Nebraska, California, and Texas will host over two dozen acts throughout the day. Take in dance performances and Lucha Libre Wrestling or try your hand at bull riding or wall climbing.
The People's Joy Parade at Cinco de Mayo features paper floats, giant puppets, mobile art installations, and more. The parade departs from Minnesota and Cherokee at 1:11pm. If you'd like to join the parade, email peoplesjoyparade@gmail.com.

May 25th in Dutchtown
Come to Downtown Dutchtown and Marquette Park for a busy Saturday this Memorial Day weekend! Start with the Blessing of the Bikes at St. Anthony of Padua Catholic Church on Meramec. Come get yourself and your non-motorized conveyance blessed at 9am.
Following that, the Dutchtown Bike Tour will depart from Urban Eats at 10:15am. The Dutchtown Bike Tour is a family friendly ride through the neighborhood highlighting the various pocket parks before passing through Marquette Park (and Open Streets) and then returning to Urban Eats. Register and hydrate at Urban Eats beginning at 9:30am.
Thomas Dunn Learning Center hosts their Spring Art Market on May 25th as well. Find art, jewelry, sculpture, clothing, home goods, and more. Vendor tables are still available. Visit the Facebook event page for more information.
Finally, the pool at Marquette Park opens for the summer on May 25th. The South Side's only free public pool will be ready to go at noon on Saturday.
Cherokee Caravan
The Cherokee Caravan returns this Memorial Day to Cherokee Antique Row. Find over 100 vendors selling art and antiques, plus food trucks, drinks, and live entertainment. The Caravan runs from 9am to 5pm on May 27th.
Neighborhood Meetings
Alderman Cara Spencer hosts a 20th Ward meeting at Thomas Dunn Learning Center on Wednesday, May 8th from 6pm to 8pm. Learn more about the Better Together merger proposal and efforts to privatize the City's airport. Plus get a public safety update from Third District Captain Ryan Cousins.
The Dutchtown West Neighborhood Association also meets on Wednesday, May 8th, 7pm at the banquet hall at Grbic Restaurant.
Gravois Park holds their monthly neighborhood meeting on Tuesday, May 14th. The meeting is at 6pm at 3353 California, the former Jefferson Bank Building just north of Cherokee.
The Cherokee Street Community Improvement District has their regular public meeting on Thursday, May 16th. The meeting is at 5:30pm at Artist Art, 2643 Cherokee Street.
The St. Cecilia Historic District's monthly meeting is on Tuesday, May 21st at 6:30pm. The meeting is at St. Cecilia Academy. Enter from Alaska between the church and the school.
The Dutchtown Community Improvement District Board of Directors meets on Thursday, May 23rd. This meeting is at 5:30pm at Urban Eats and is open to the public.
Mount Pleasant Neighborhood Association holds their quarterly meeting on Wednesday, May 29th. The meeting is at 7pm in the Gretchen Inn, next door to the Feasting Fox on Meramec.

Thomas Dunn Learning Center
Visit Thomas Dunn Learning Center's Art Lab Monday through Thursday from 3pm to 6pm. Work on your own piece or participate in the focus of the day. Art supplies are available along with tons of items to reuse and repurpose.
The South Side Youth Council meets every Monday at 4pm at Thomas Dunn. The South Side Youth Council aims to contribute to the South Side community by creating and organizing youth led programs and events.
Caregivers and children can learn to cook affordable, healthy meals together at What's For Dinner, a six-week course in Thomas Dunn's demonstration kitchen. Participants go home with groceries and a meal after each class. Participate in four or more classes and get kitchen tools and equipment at graduation. Contact Liz at 314-282-9314 or liz@tdunn.org to register. Classes are Thursday evenings, 5pm to 7pm, May 2nd through June 13th.
Sip 'n Sketch is Wednesday, May 8th at 6:30pm. Everyone can participate in this life drawing class for all skill levels. Bring a snack and a beverage. Register by calling 314-282-9314.
Thomas Dunn hosts the next DT2 After Hours happy hour on Wednesday, May 15th at 5:30pm. Come meet your neighbors, enjoy some refreshments, and find out more about this invaluable resource right in the middle of our neighborhood.
Other Dutchtown Events
Callisto Comics and Stories, our neighborhood comic shop on Virginia, invites you to beat the rush and start Free Comic Book Day early. Find some great deals, plus enjoy free coffee from 8am to 11am on Saturday, May 4th. And on Saturday, May 11th, come to the shop for an outdoor comic book bazaar featuring several vendors with a wide selection of titles.
Thursday, May 9th is Trashy Hour on Cherokee Street. Meet at Earthbound Beer at 2:30pm, walk the neighborhood picking up trash from 3pm to 4pm, then reconvene at Earthbound for some celebratory beers and hang out with your neighbors. Register at Nebula's website.
Come to the Haunt on May 11th for their May Bazaar. Find unique and unusual art and other items you won't come across at the mall. Plus enjoy great drink and shot specials all day.
Join Dutchtown South Community Corporation on Friday, May 17th from 5pm to 8pm at the beautiful Marquette Park Field House for a night of sustainable fun and community. So Fresh, So Green: A Cocktail Celebration is a night of live jazz, cocktails, and celebration of the South Side community. Tickets are priced on a sliding scale and include two drinks. Get your tickets here.
South Broadway Art Project hosts an Ice Cream Social Fun-raiser on Saturday, May 18th from 6pm to 9pm. Proceeds support TAP Teen Apprenticeship scholarships. Buy a handmade bowl and fill it with unlimited ice cream sundaes, enjoy complimentary snacks, and get drinks in exchange for donations.
DSCC's next Community Empowerment Committee meeting is Wednesday, May 29th, 6pm at Thomas Dunn Learning Center. Start planning for September's Common Sound Festival and discuss other issues going on in the neighborhood. Dinner and childcare are provided.
---
There's something going on every day on the Dutchtown calendar! Don't forget to follow us on Facebook, Instagram, and Twitter for even more Dutchtown news. You can also sign up for our mailing list for occasional updates.