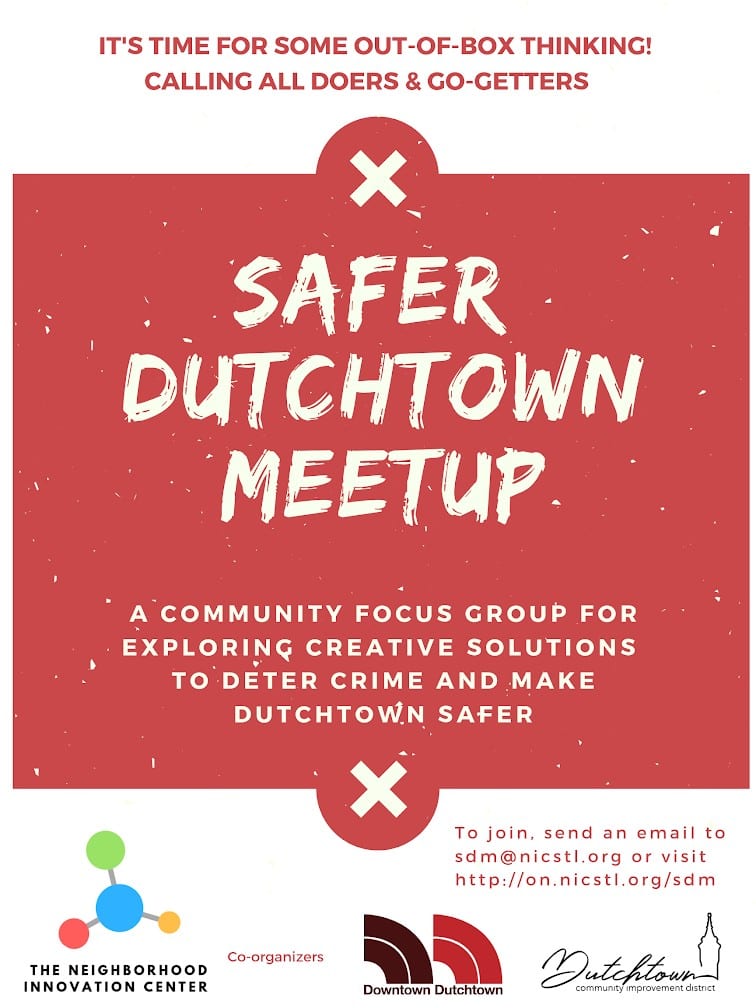 Safer Dutchtown Meetup is a community group for neighbors interested in exploring creative solutions to our crime and safety issues in Dutchtown, as citizens and as a community.
All are welcome! However, please note that we're not interested in getting together to complain about our problems. The reality is that the status quo is in our face and unacceptable. We are interested in brainstorming and acting on creative, forward thinking solutions that can lead to real change and a safer neighborhood for all.
Meetups will be organized in "30-day sprints," meeting two to four times every 30 days to brainstorm and generate concrete actions. The first sprint will focus on a crime deterrence theme with an objective to create a call for action with specific deterrence recommendations for citizens and businesses to adopt.
If you're open-minded and optimistic about a better future for the Dutchtown neighborhood, Safer Dutchtown Meetup is the group for you. For more information, email sdm@nicstl.org or visit the Meetup page. Our first meetup is on Saturday, May 18th, 2pm at Urban Eats Café.
Safer Dutchtown Meetup is facilitated by the Neighborhood Innovation Center, Downtown Dutchtown, and the Dutchtown Community Improvement District. Check the DutchtownSTL calendar for upcoming meetings.