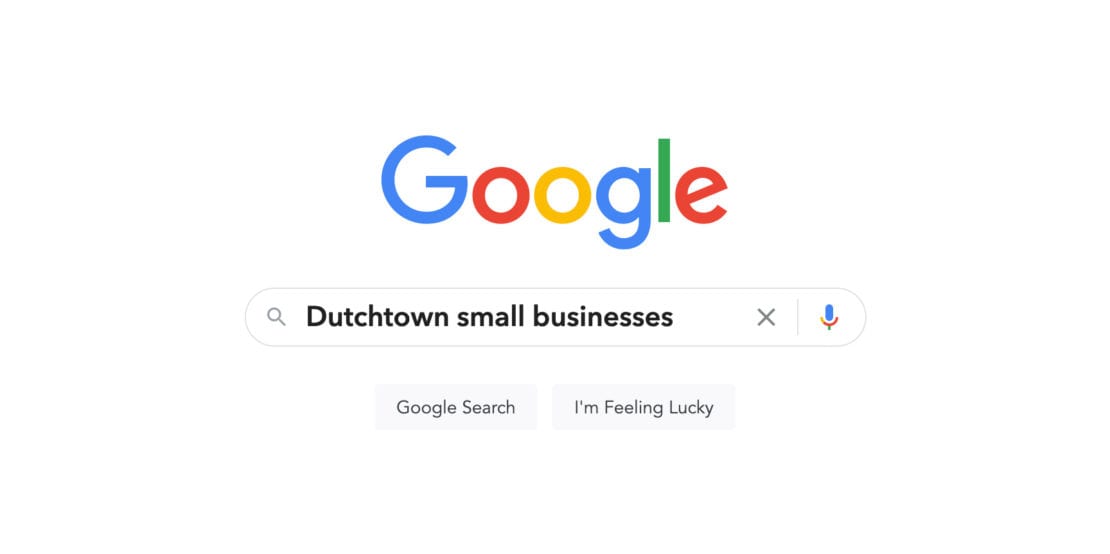 Google My Business helps businesses get listed on Google and control what your potential customers see. In this guide, we'll walk you through the process of getting set up and making sure that you've got your best face forward. And yes, it's free!
When you want to reach customers in Dutchtown and beyond, you need to be seen on Google. Most people these days head to Google for just about everything, especially when they're looking for shops, services, or somewhere to eat nearby. The more accurate information you can provide, the better Google can direct people to your business.
DutchtownSTL is dedicated to helping our Dutchtown small businesses succeed. These guides are a collaboration between two of Dutchtown's Committees: the Promotion Committee and the Economic Vitality Committee. For more information and to join any of our committees, visit dutchtownstl.org/committees.
For more Dutchtown small business resources, visit dutchtownstl.org/business.
Google My Business Video Guide
Dutchtown resident and business owner Janessa West takes you on a video tour of getting your business listed on Google My Business. She sets up a listing for her St. Louis Mobile Notary Service, showing you all of the steps to get set up on Google. The video has tips and tricks for any kind of businesses, but is especially valuable if you operate a service business from home or a mobile business serving a wide swath of the St. Louis region.
Step by Step Google My Business Walkthrough
If videos aren't quite your thing, below we'll offer a step by step guide to setting up your Google My Business profile. This guide will focus on setting up a profile for a brick and mortar business like a restaurant or shop, but again, there are plenty of suggestions that apply to any type of business. Follow along below!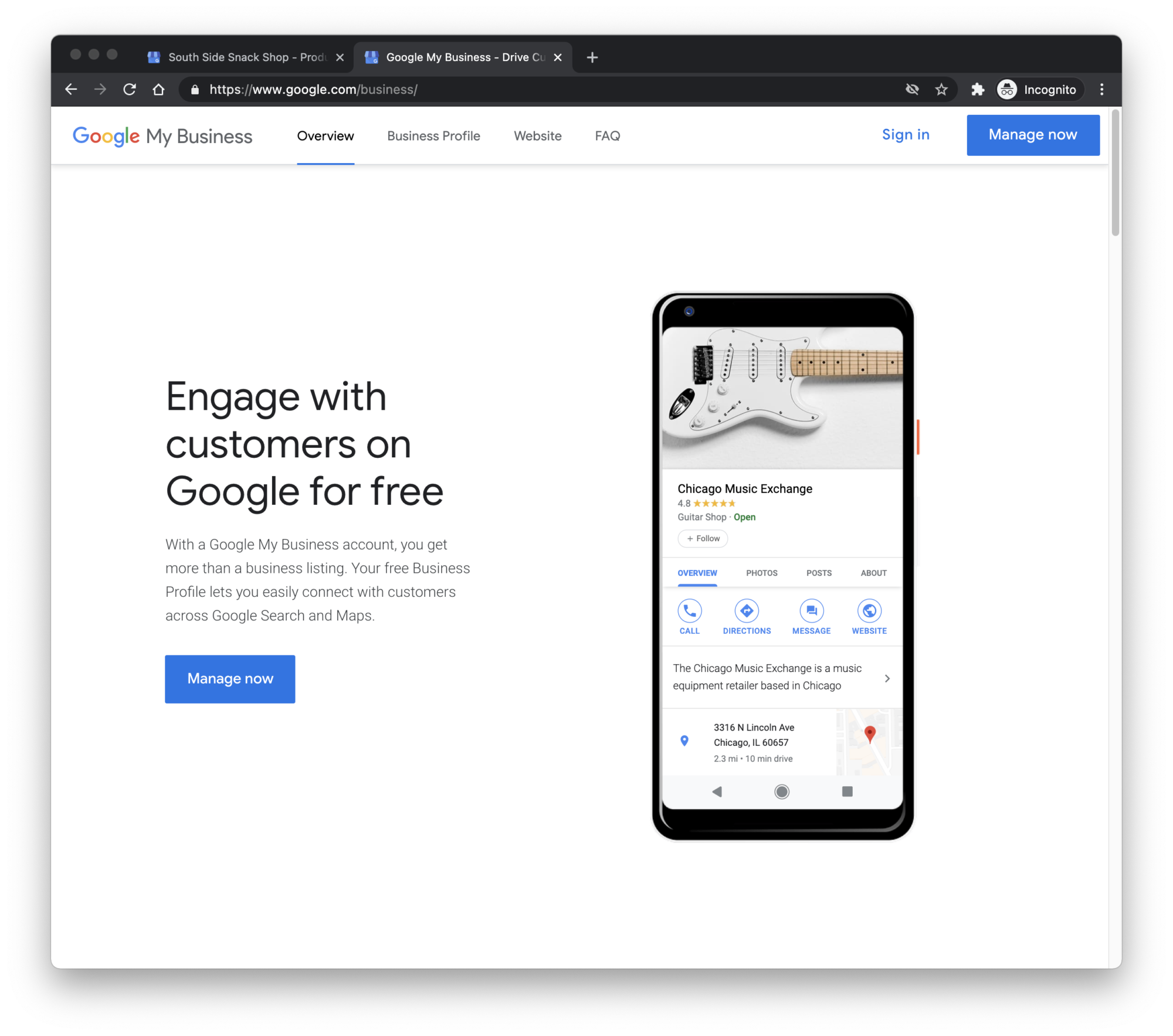 Get Started
To get started, go to google.com/business and click on Manage Now. You'll be asked to sign into your Google account if you're not already signed in. If you don't already have a Google account (i.e. for Gmail), click here to sign up.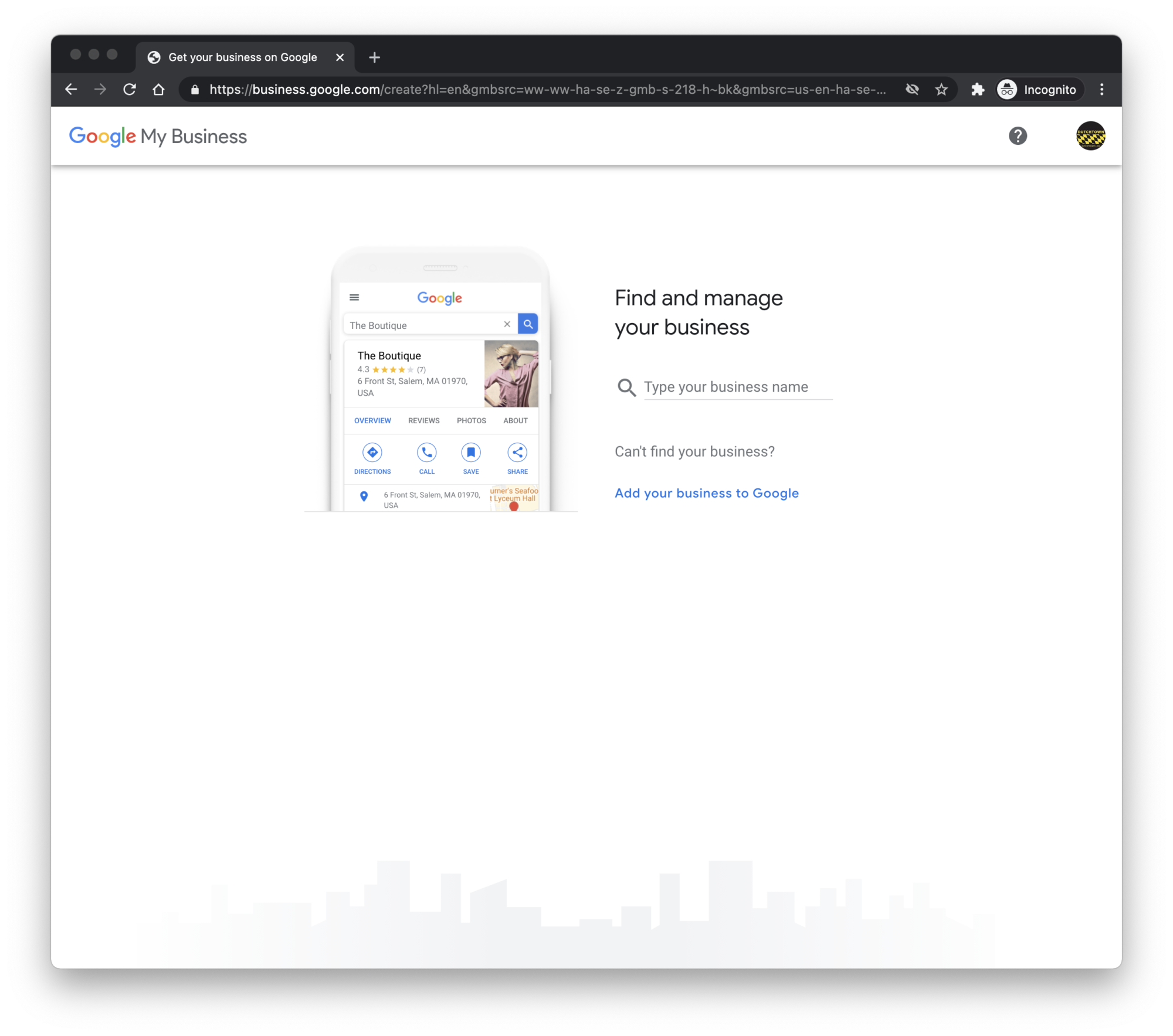 Find and Categorize Your Business
There's a good chance that your business may already be on Google. Even without telling them, Google knows a lot about you and your business. Type in your business name and see if anything pops up. If you find yourself in the list, that means Google has already collected some info on your business through other websites, user contributions, or other sources. Now is your opportunity to get ahold of that information and make sure it's accurate and up to date.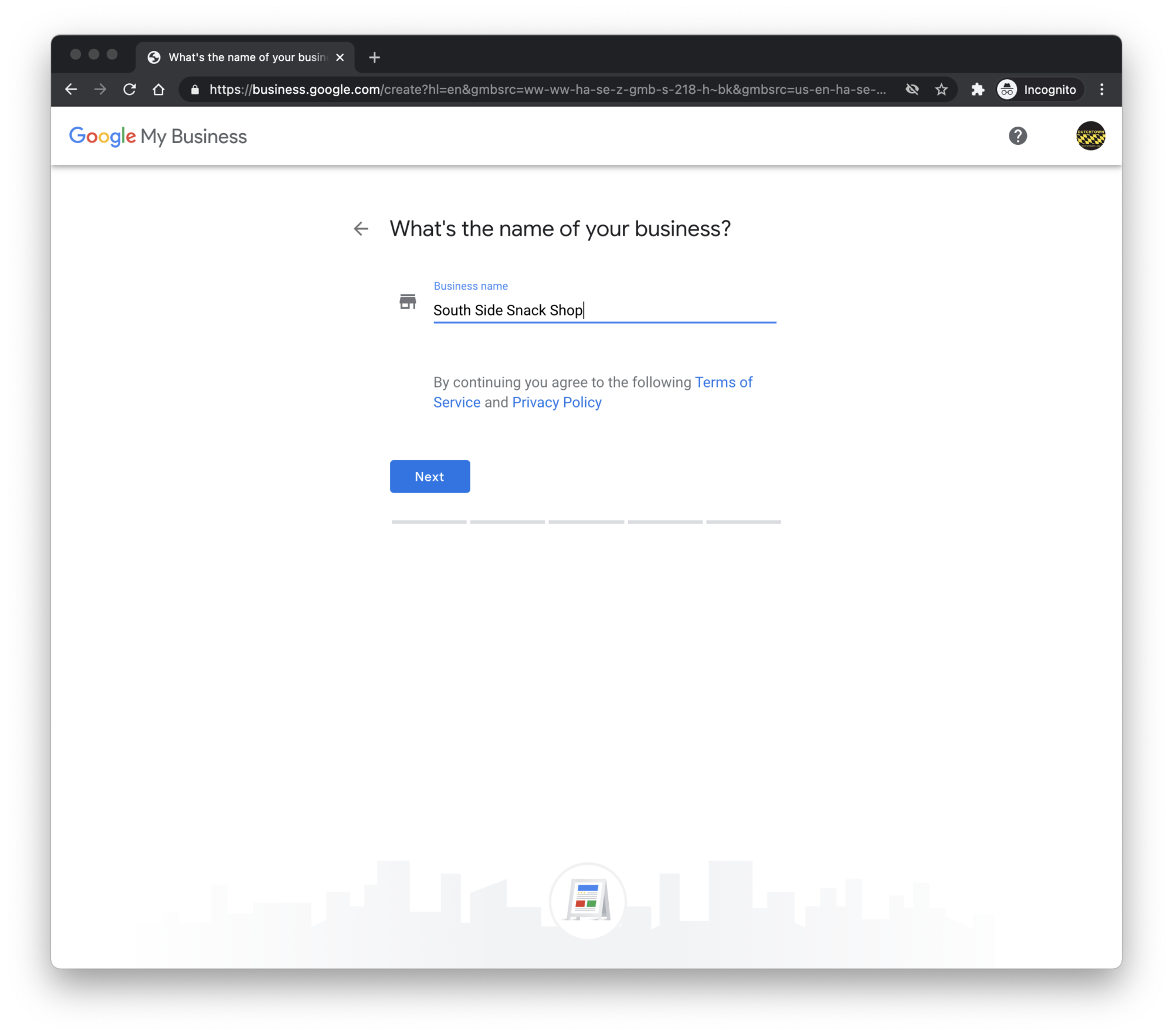 If you didn't find yourself in the step above, you'll need to let Google know who you are. For this walkthrough, we're going to open a small convenience store called South Side Snack Shop. Enter your business name and click Next.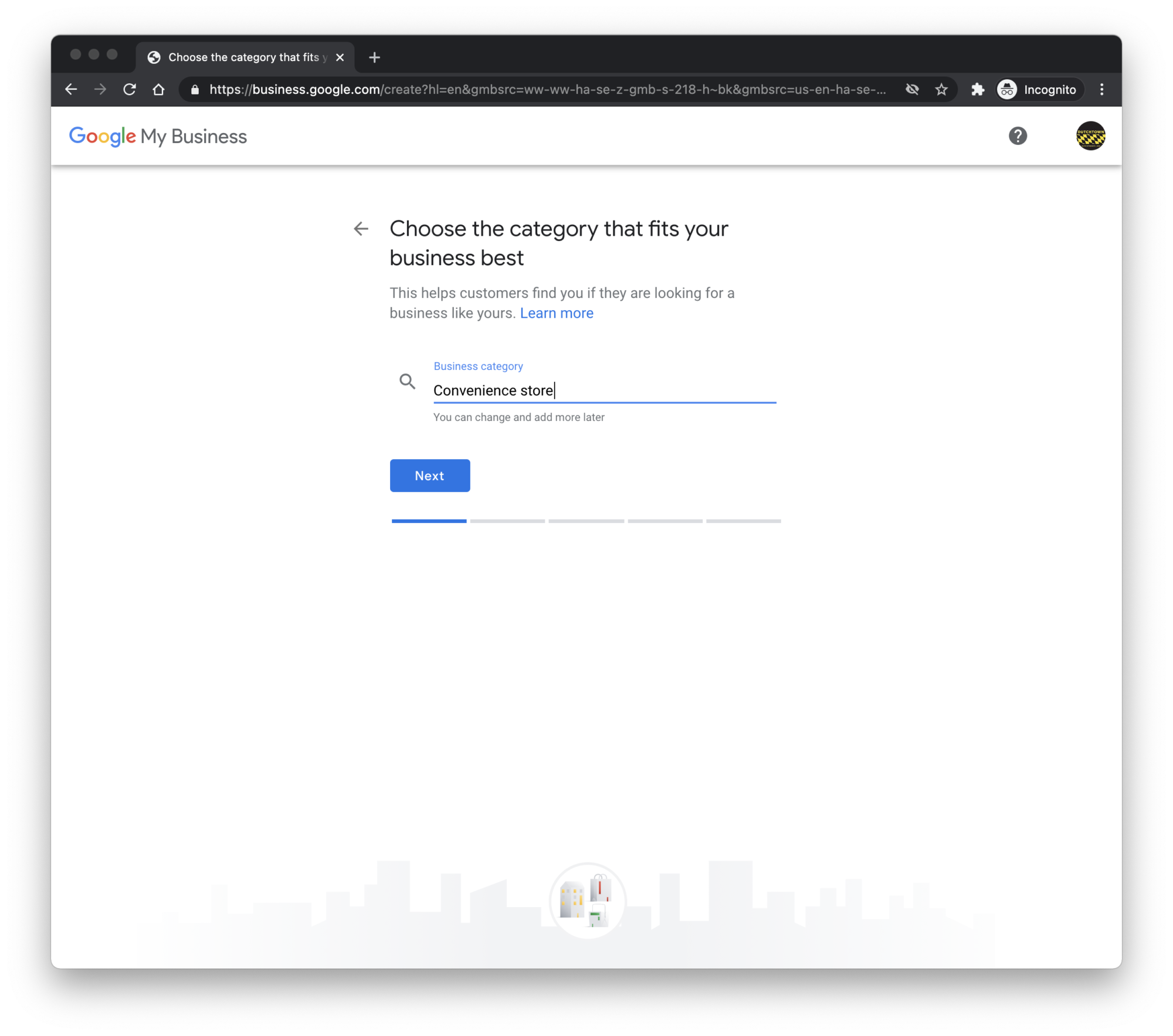 Next, you'll be asked to assign a category to your business. There are a lot of options. Start typing what category you think best fits your business and Google will start to make suggestions. You'll only get to make one choice here, so make sure it's the right one. Once you've made your selection, click Next to continue.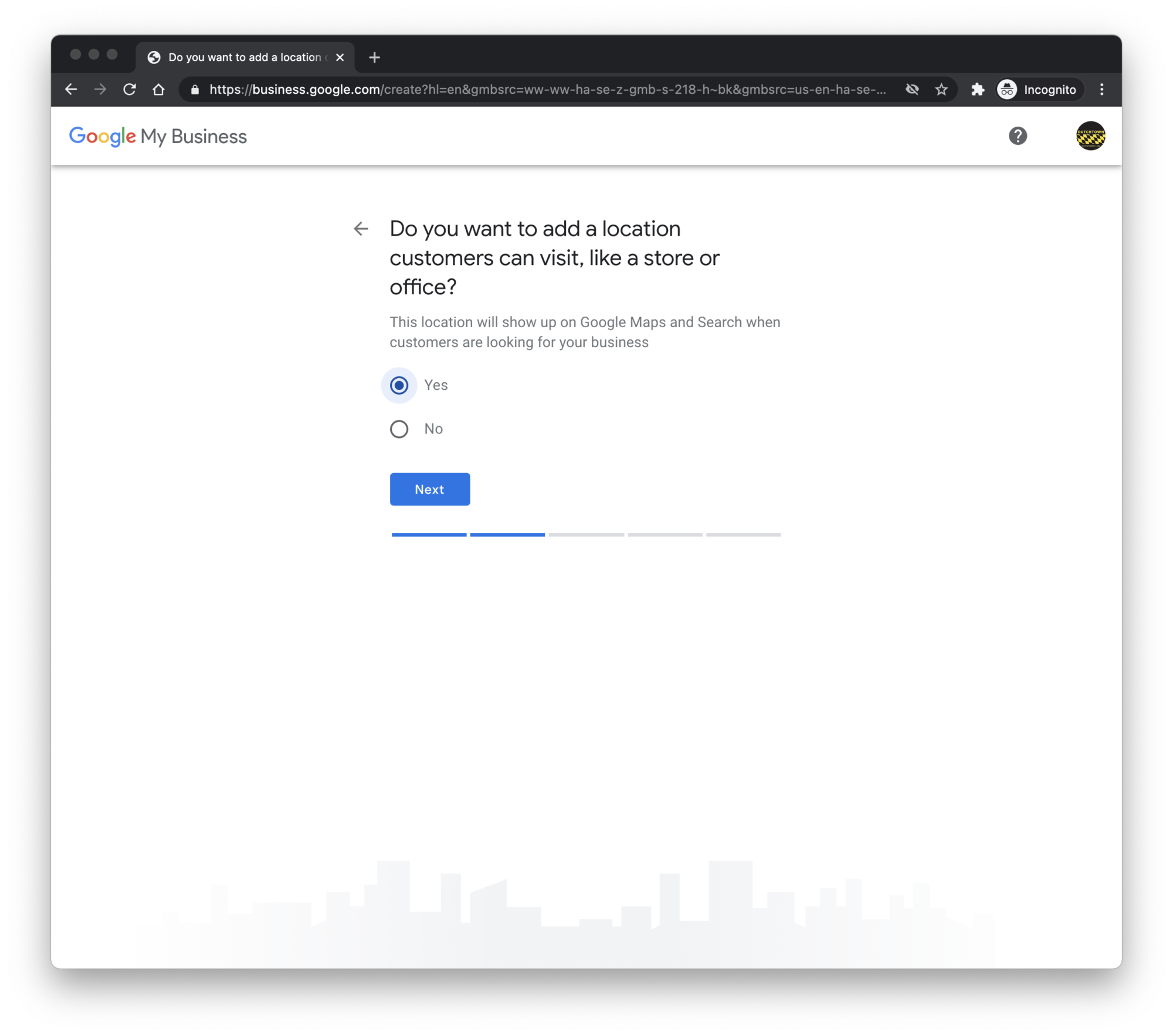 Your Business on Google Maps
Google will ask you if you'd like to add a physical location for your business. If you're operating a brick and mortar shop like a restaurant or retail store, or if you offer in person services at a specific location, go ahead and click yes. This will give you a chance to enter your address information, hours, and so on.
If you run a business from your home or deliver your services directly to people at their home or business, you can select no.
For the next several steps, we'll assume that your business has a physical location.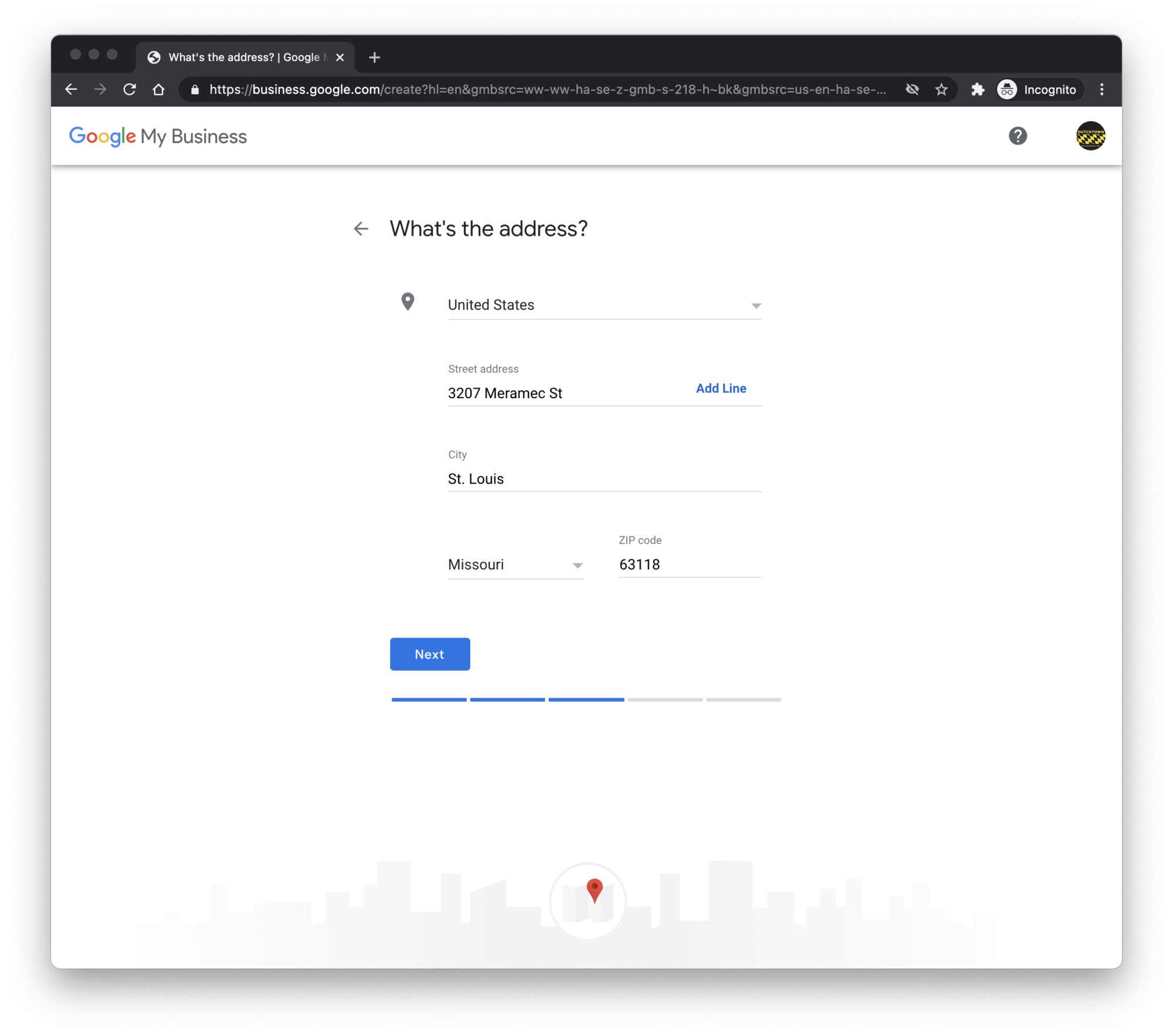 Go ahead and enter the physical location of your business. Our fake convenience store, the South Side Snack Shop, will be conveniently located inside the Neighborhood Innovation Center to serve our hungry volunteers and committee members.
As you begin to type your address, Google will pop up suggestions to help you make sure your address is valid and will appear properly on Google Maps. Showing up on Google Maps is especially important for businesses seeking foot traffic. When someone does a search for "resale shops near me" or "restaurants in Dutchtown," your business might show up on a map near the very top of the Google results: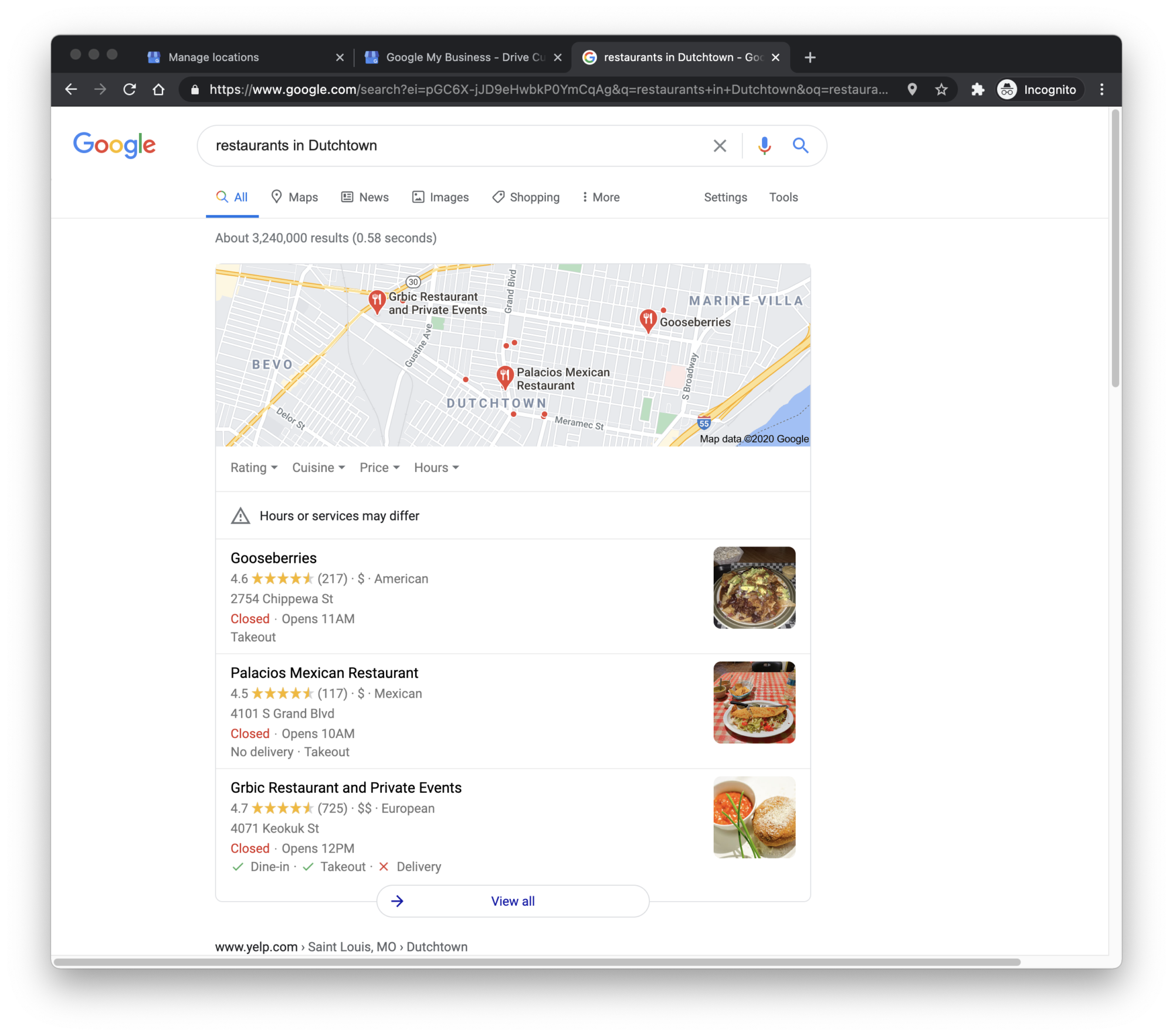 Now potential customers can pull up this map and see exactly what is nearby. The more information you provide—and as you grow, the more reviews and attention you get—the more prominently you'll be listed.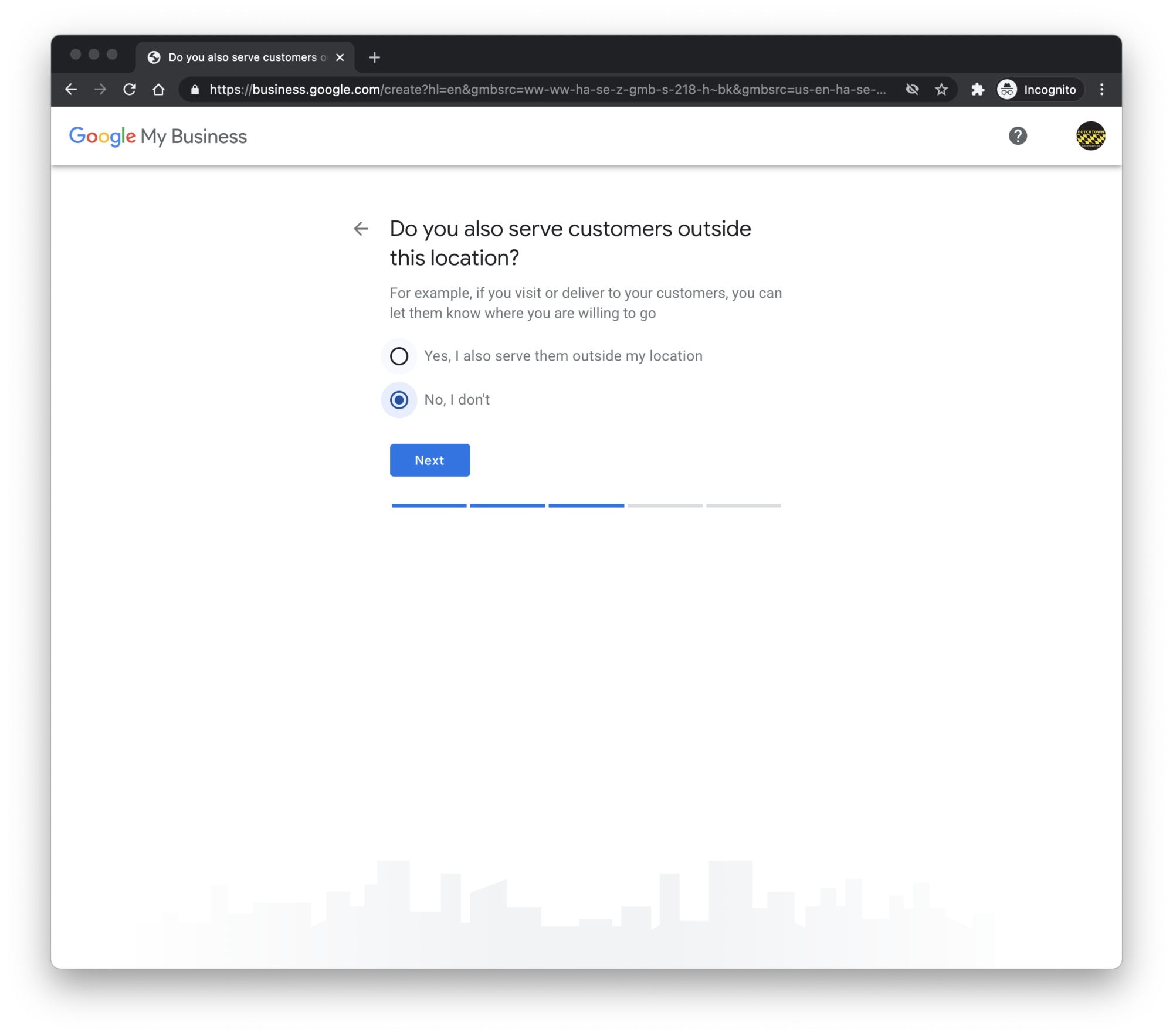 The next option allows you to tell Google if you serve customers outside of your brick and mortar location. If you run a restaurant that delivers or a construction business that serves the region, you'll want to select Yes here. Since for this example, we're just setting up a simple shop, we'll select no. But if your businesses serves customers beyond your four walls, we'll come back to this and show you what to do.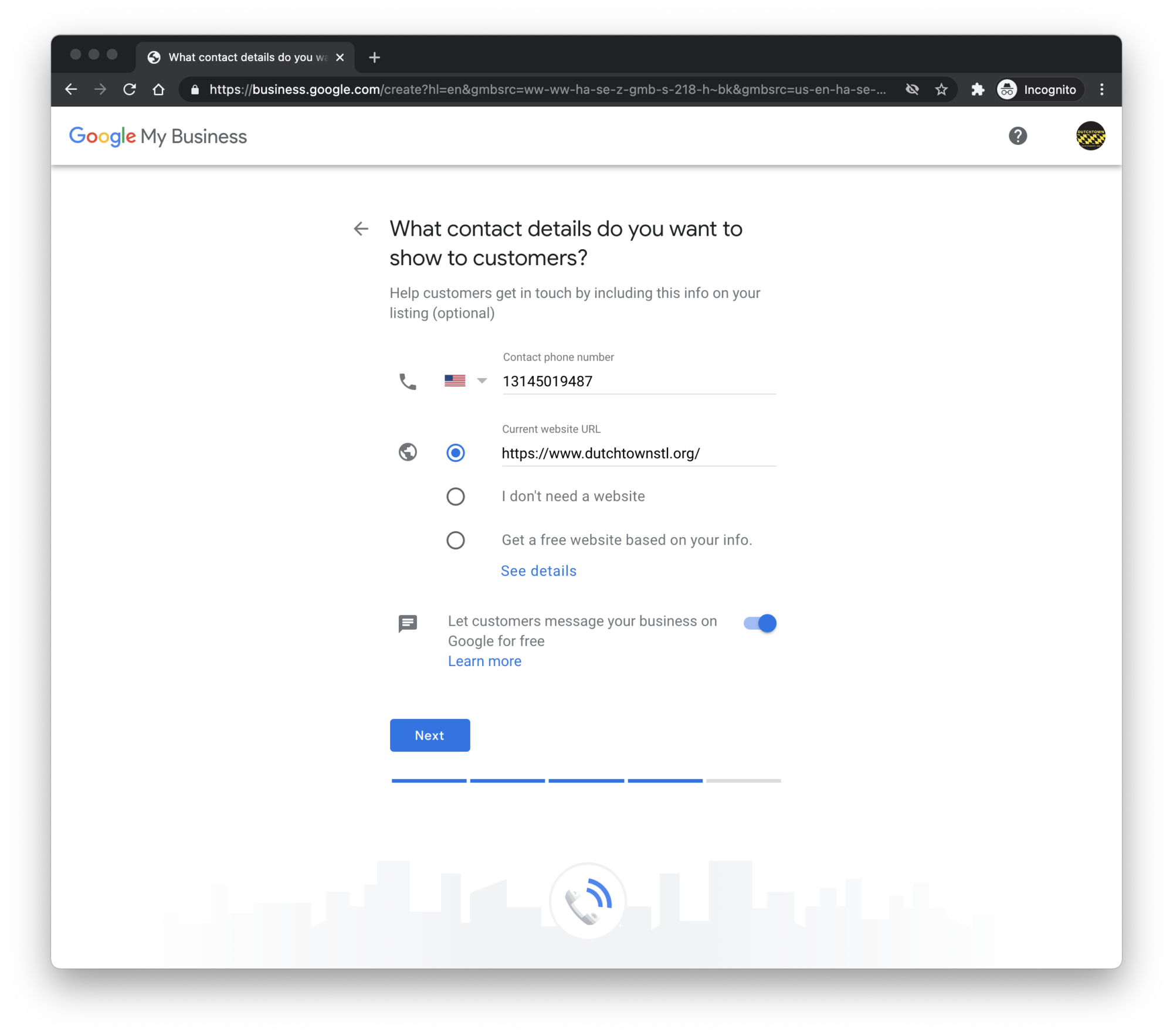 Contact Info and Websites
Potential customers will want to get in touch with you. On the next screen, you'll be asked to provide some basic contact info: your phone number and your website. If you don't have a full fledged website, you could consider including a link to something like a Facebook page here.
Google can also help you develop a small website. Sol Azteca, located on South Broadway in Dutchtown, has chosen this option. Take a look at Sol Azteca's Google website to get an idea of the possibilities. We'll discuss setting up a website for your business in a future guide.
You're just about done getting set up! Google will ask if you want to "stay in the know"—this means you'll get emails about how your business is performing on Google, plus suggestions on how to improve your profile. If you don't mind getting a few extra emails a month, it's not a bad idea to click this option.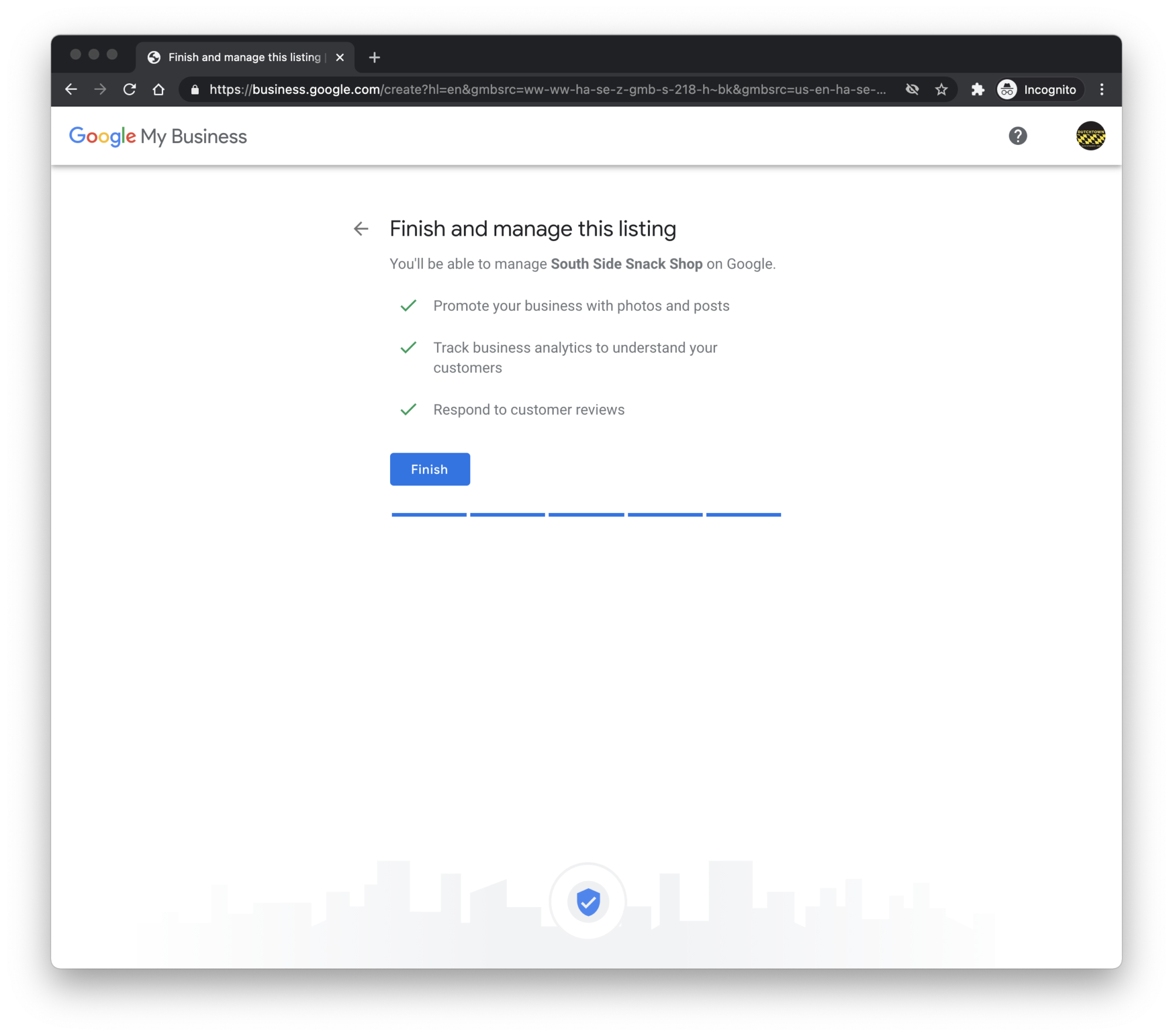 And now you're listed! But that's just the first step in getting your business on Google My Business. While you can approach this as a one time task, we recommend that you keep an eye on your Google profile to keep your listing up to date and engaging. We'll show you how to manage your profile further down this page.
Managing Your Google My Business Profile
As we said above, managing your Google My Business profile is an ongoing job. While we understand that small business owners are already busy, it is definitely worth taking a few extra minutes right now and in the future to manage your profile. Again, this is how people find you now.
Once you've completed the above steps to get yourself listed on Google, you'll be asked to provide some additional info to help develop your profile. You can always access these details from your Google My Business dashboard. But since we're already here, let's add some extra touches to make your profile stand out. A more complete profile shows customers a better overview of your business.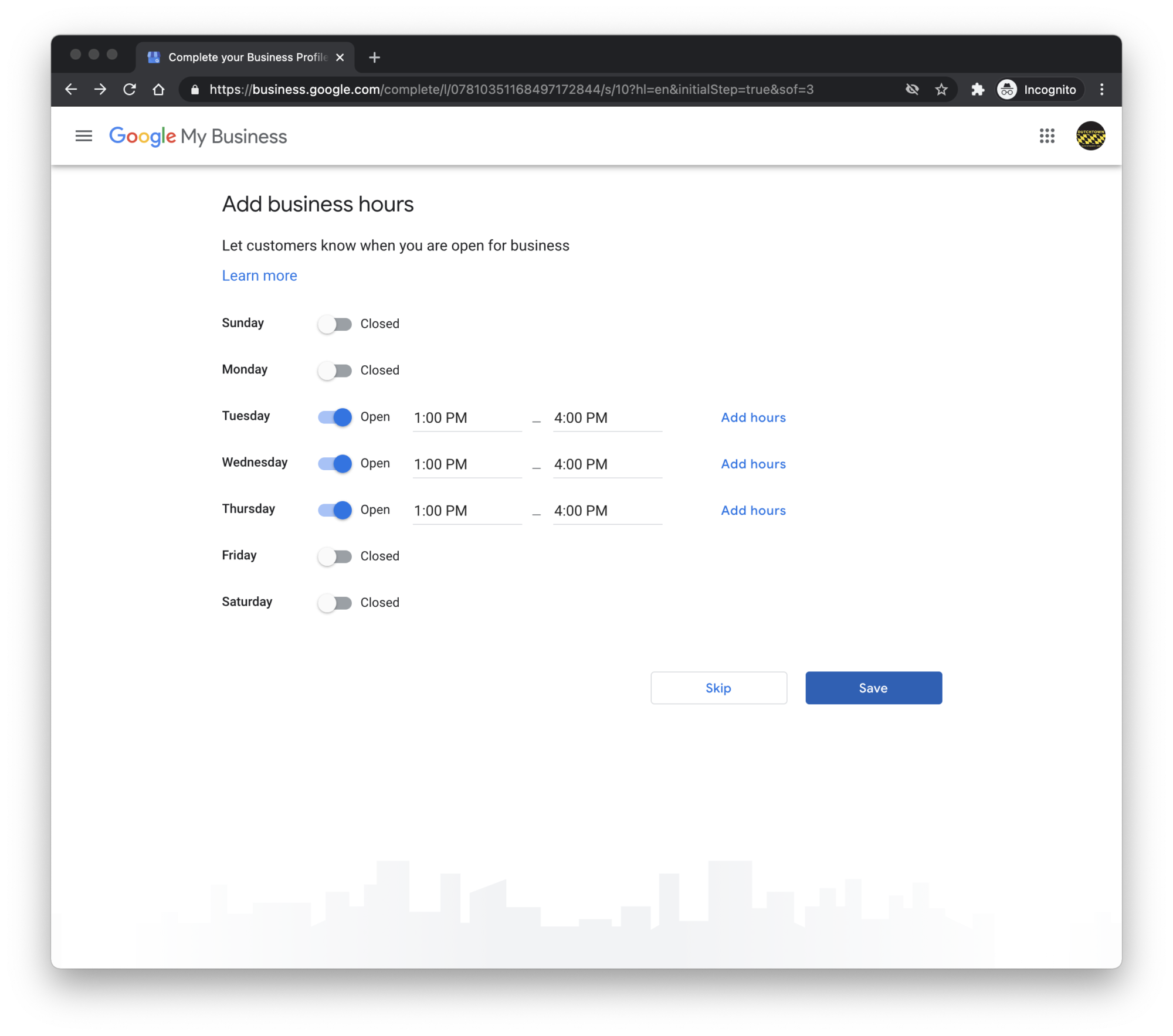 List Your Business Hours
If you're running a brick and mortar location (or if you don't want customers calling you at all times of the day), you can enter your business hours. The South Side Snack Shop has fairly limited hours since we're otherwise busy keeping DutchtownSTL.org up to date for our neighbors. You can add or change your hours as necessary.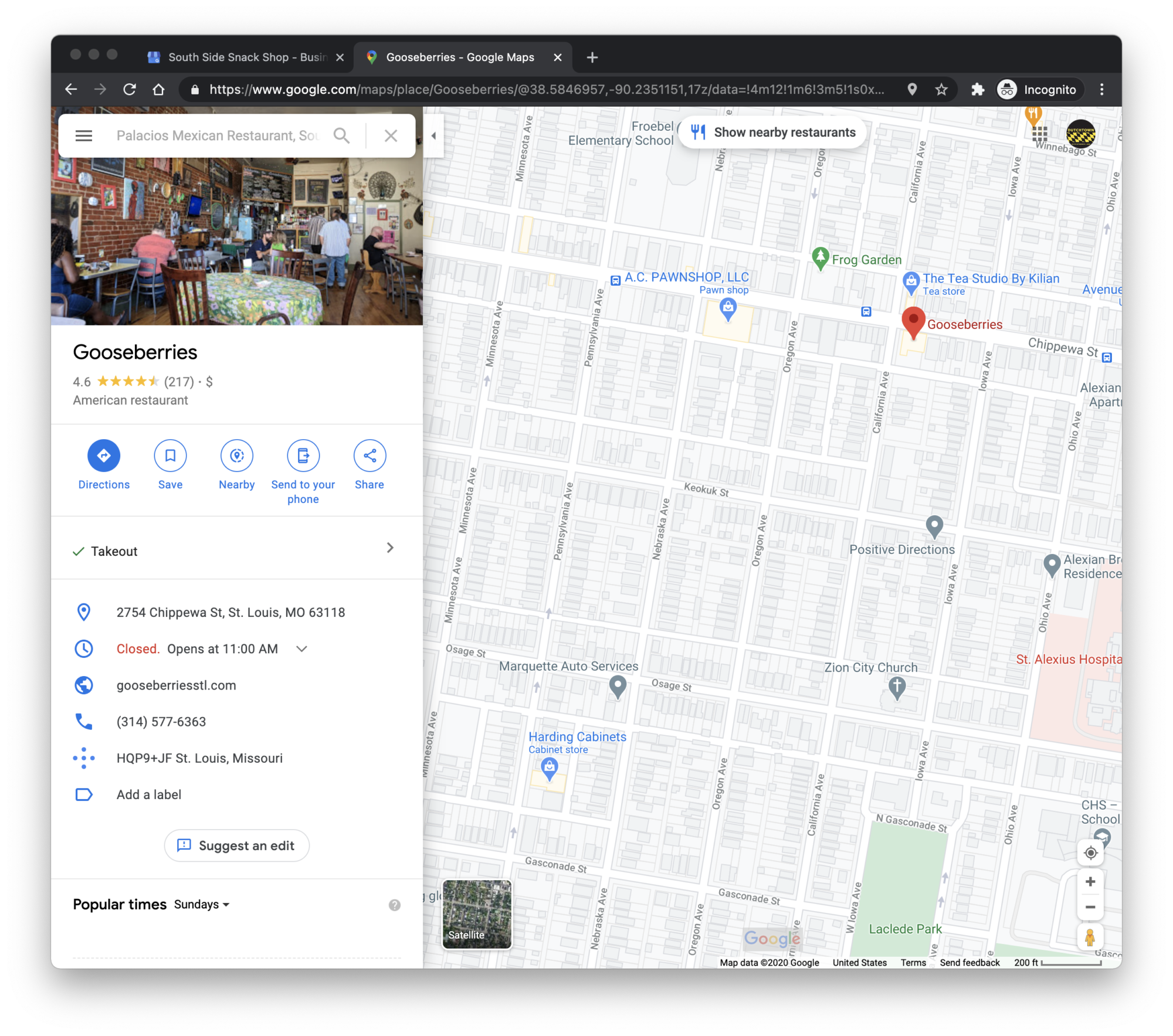 When you include your hours, Google will be able to tell your customers if your business is currently open or closed, and when you open next. It will even provide helpful tips that you're "opening soon" when the start of your business day approaches.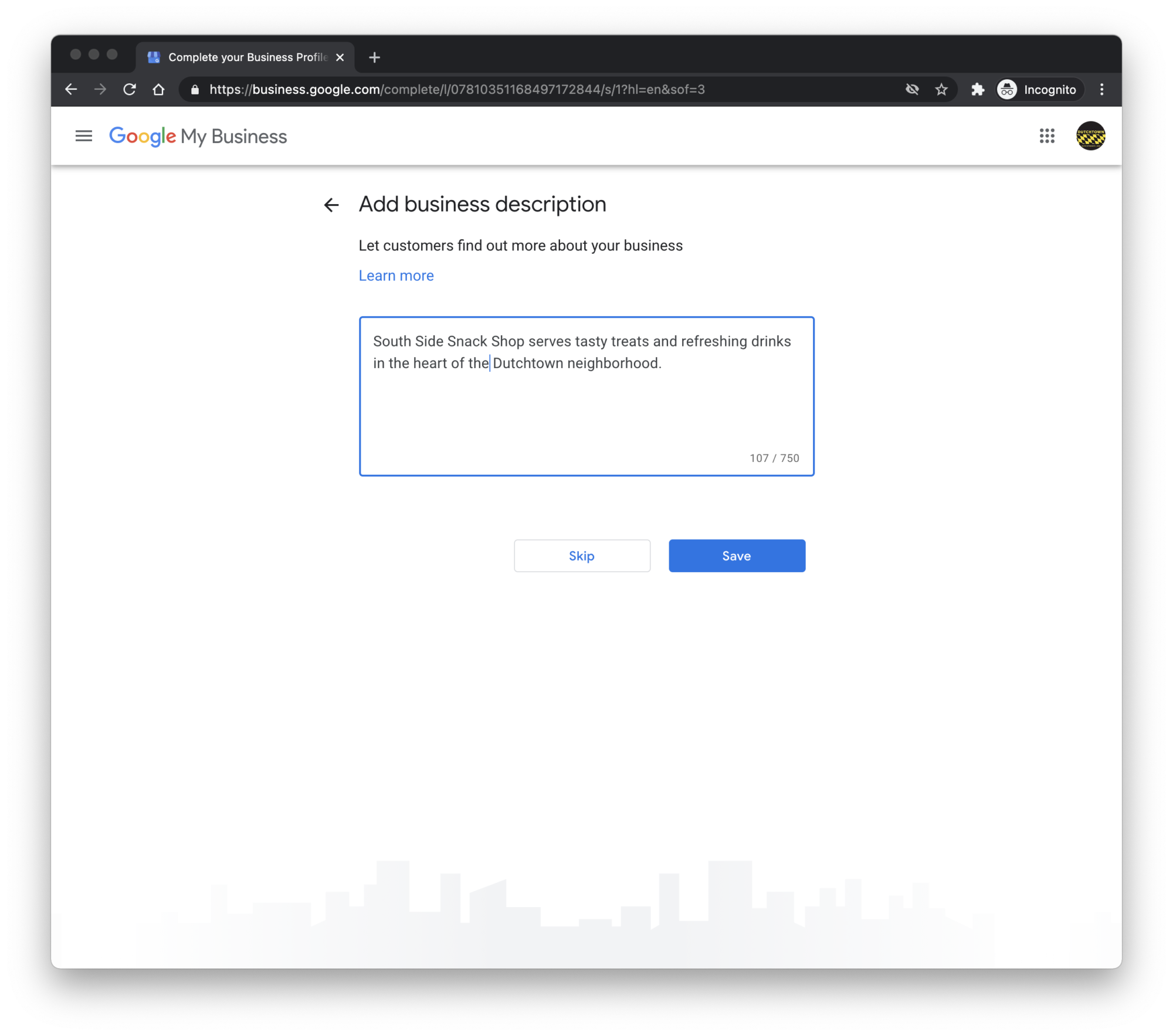 Describe Your Business
Next, you'll want to provide a description for your business. You can keep it brief, but Google recommends you use all 750 characters that they give you. This is a good spot to get specific about what you do. For example, don't just say that you have a restaurant—tell them more:
The Dutchtown Diner serves classic American food with a twist, including burgers, sandwiches, and salads. We're best known for our Triple Turkey Club, but we also feature a great selection of burgers, melts, and wraps along with your favorite traditional sides and unique items you won't find anywhere else!

We offer daily entree specials including such dishes as meatloaf, pork chops, and our famous roasted chicken. We also do breakfast made to order and lunch specials featuring our tasty sandwiches, soups, and salads.

We aim to please every customer whether they choose to dine in, take it to go, or have their dinner delivered. Try the Dutchtown Diner today!
Including more specific information helps google get to know you better. Your potential patrons might not be searching for just a "restaurant"—they probably entered something more specific, like "sandwich shop in Dutchtown" or "burgers near me." Make sure they can find you by including those types of keywords.
Some other examples:
Rhonda's Resale Shop carries a carefully curated selection of women's fashions, including dresses, jeans, t-shirts, and jewelry for women of all shapes, sizes, and styles.

Whether you're looking for a whole outfit for a night on the town, or the perfect jewelry piece to complement your ensemble, Rhonda's Resale Shop has a unique and eclectic selection that's sure to include something for you. We are constantly getting new items in, so make sure to visit us often for all of the latest fashions and freshest finds.

We've got something for every style and every season. Come visit Rhonda's for casual classics, professional business clothes, and stunning evening wear.
Or:
Gonzalez Contracting is a full service construction contractor specializing in work on the beautiful old homes of St. Louis. We work on construction jobs of all sizes, from small repairs to full renovations.

Our expertise in historic restoration and maintenance adds beauty and brilliance to your historic home. Call on us for all of your tuckpointing and brickwork needs. We also repair, restore, or install decorative architectural elements and historic windows according to local historic building regulations.

Additionally, we can help with your patio or deck plans, your kitchen or bathroom upgrades, or a variety of other projects around the house. Contact us today for a free estimate and referrals.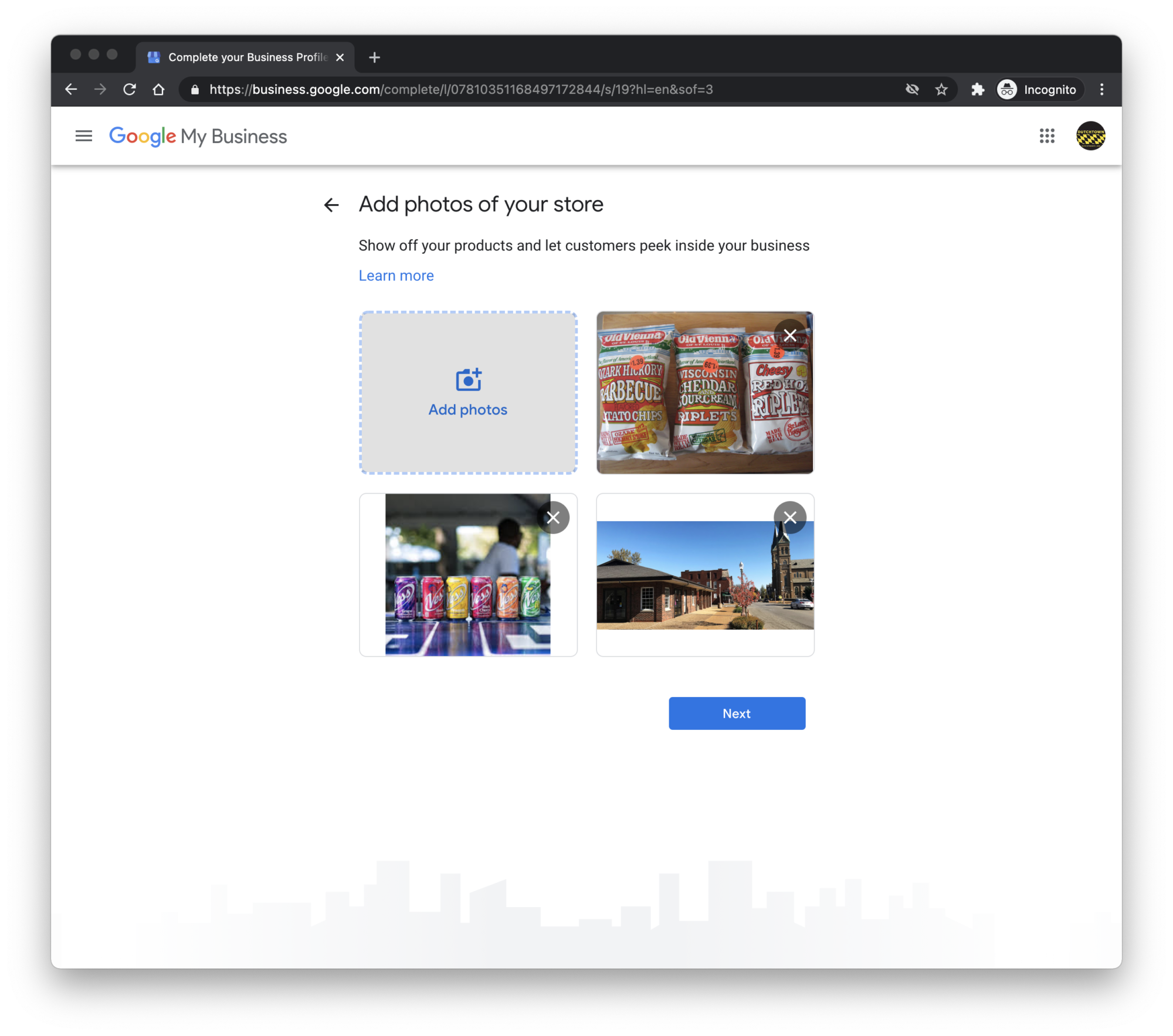 Add Photos
If you really want to catch the eyes of your potential customers, make sure to add some photos to your profile. Photos show off your merchandise and services better than words, and they're far more engaging to potential customers.
Try to make your photos both interesting and flattering. If you're not the best photographer, consider asking a friend or family member who might be able to snap a more attractive shot.
Add as many photos as you like. Some ideas:
Restaurants: your dining room (either empty or during a rush), you or a chef working in your clean and organized kitchen, carefully plated dishes, or servers taking food to a table.
Shops: you or your employees helping customers (make sure the customers are okay with you taking and using their photo), the newest merchandise, or the inside of your store showing your broad selection and well maintained shop.
Services: you or your employees working with clients, in progress and finished projects that demonstrate the high quality of your work, or you standing in front of your business.
Including photos of yourself, your employees, and your customers can help attract potential patrons by attaching faces to your business. Make sure to get the consent of anyone that appears in the photos you post online.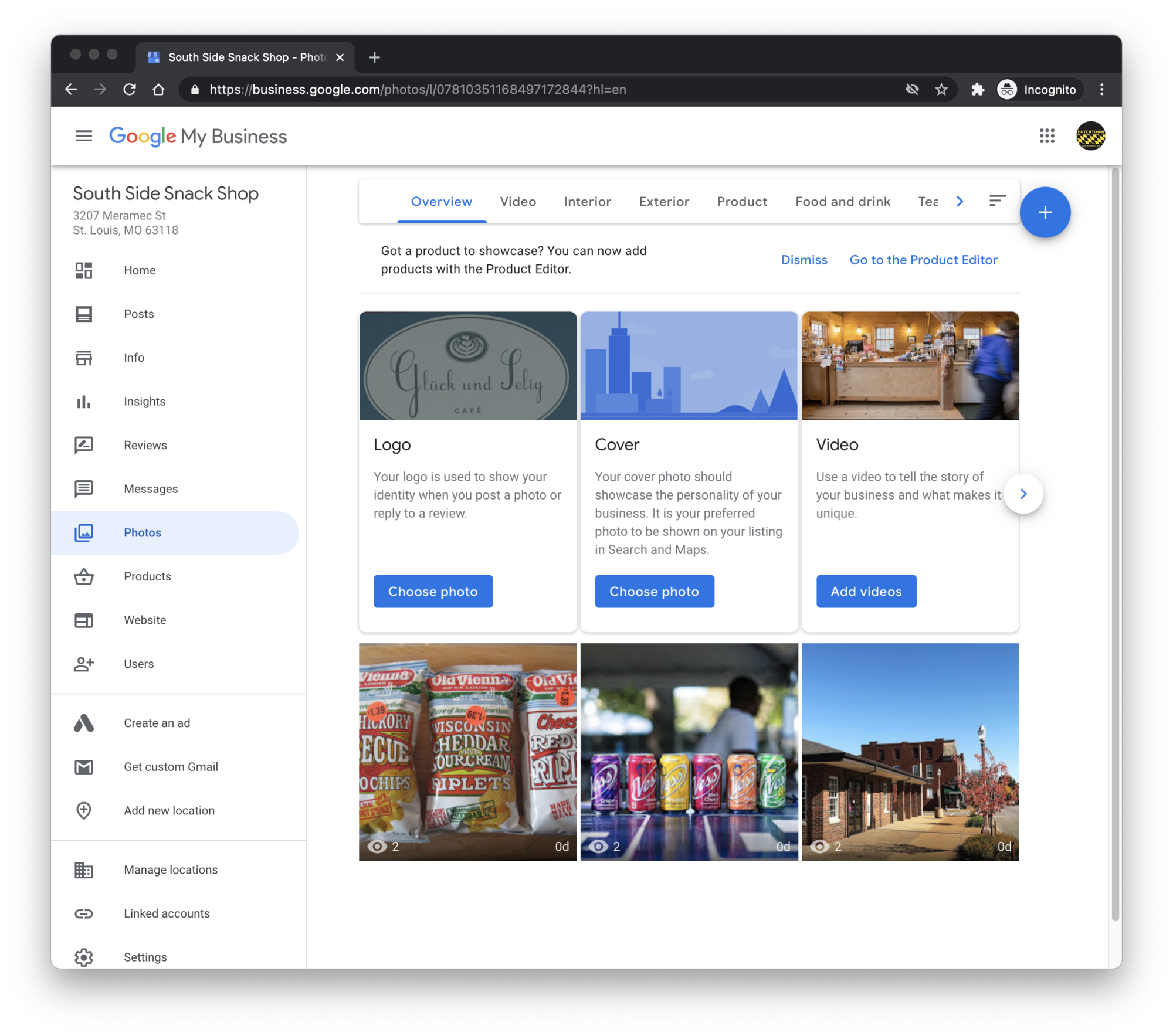 You're Set Up!
You've completed your Google My Business profile! Now you have control over what people see when your business appears on Google. You can step away from the computer now, but again, we strongly recommend that you check in on your Google My Business dashboard from time to time. Go to business.google.com to access your dashboard. Keep adding fresh photos, make sure your hours and information are up to date, and respond to reviews.
Following Up
The second part of our Dutchtown Guide to Google My Business is now live! Go further with advanced features, and keep customers engaged and up to date with fresh content.
DutchtownSTL and our Dutchtown Committees will continue to produce guides and gather resources to help our neighborhood small businesses succeed. Find more resources at dutchtownstl.org/business, sign up for the DutchtownSTL mailing list, and follow us on Facebook, Twitter, and Instagram for all the latest we have to offer! If you have ideas for how we can support Dutchtown businesses, feel free to contact us.