Missouri Main Street Connection is offering a number of grants available to Dutchtown businesses. These grants are funded by the U.S. Economic Development Administration to help businesses recover from the effects of the COVID-19 pandemic and build resilient local economies throughout Missouri.
Businesses within the UrbanMain district (roughly along Grand, Meramec, and Virginia) can apply for up to two grants to help with business development, marketing, operations, and more. Dutchtown organizations are reading and willing to help our businesses apply for these grants.
Grant Requirements
The application process is fairly simple and straightforward, and volunteers from DT2 · Downtown Dutchtown are ready and willing to help you apply. We can help you gather the minimal documentation required, along with developing a creative proposal to address your business's unique needs.
You will be required to demonstrate any impact your business felt as a result of the pandemic. This may be a loss of revenue, a need to lay off staff, or other adverse effects suffered due to COVID-19.
Grant recipients must put forth 5% of the total value of the grant. So, for example, if you receive a $5,000 grant, you would be required to invest $250 of your own money.
You must have attended the grant workshop on April 8th, or you must work with a community representative who attended—don't worry, several volunteers from DT2 were at the workshop and they're ready to help you!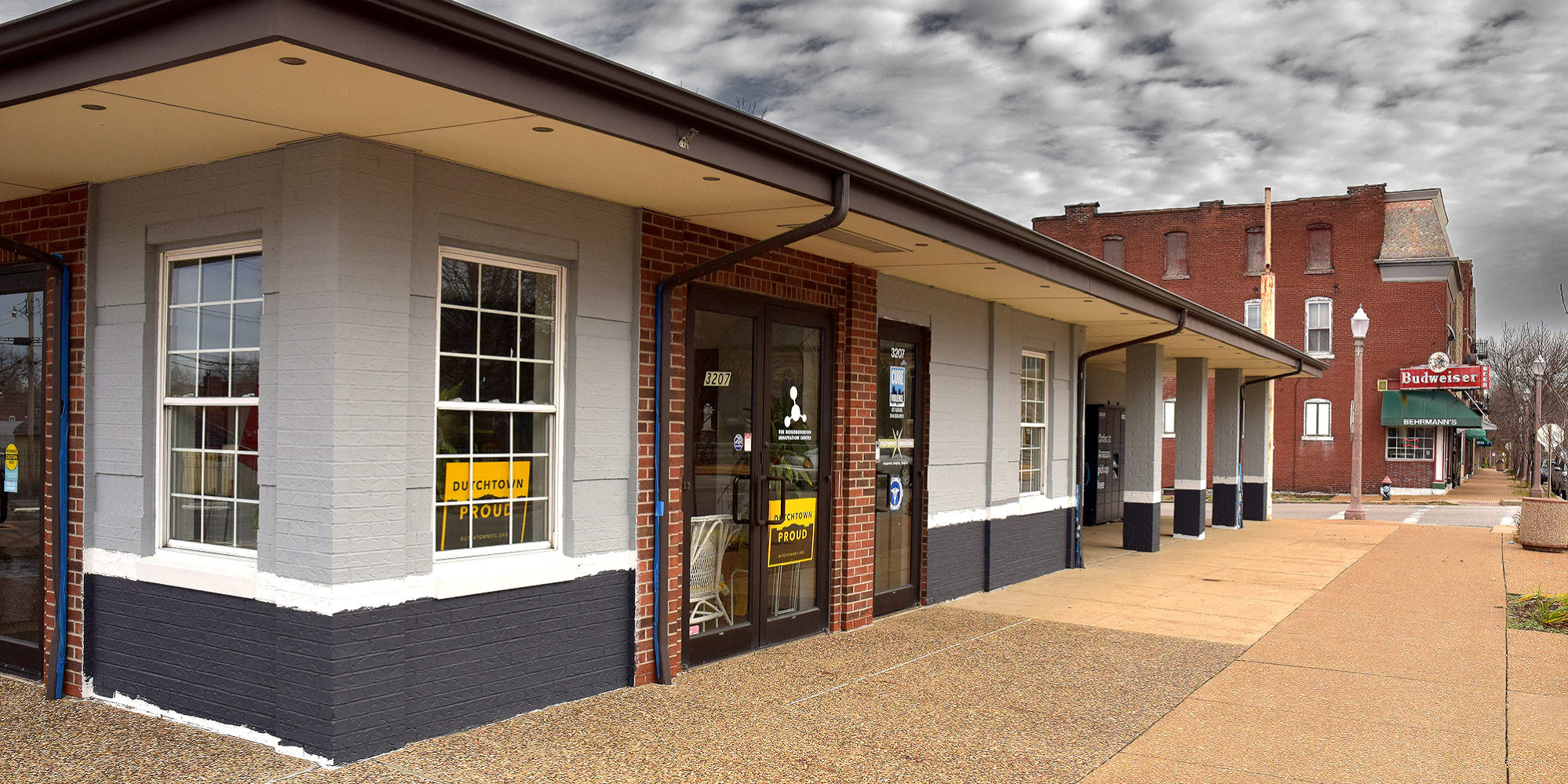 We Can Help You Apply
Need help applying for grants? Volunteers from DT2 will be at the Neighborhood Innovation Center on Saturday, May 1st from 10am to 3pm to help you complete your application at no cost. We can also arrange another time to meet with you to prepare your grant application—just email jessica@dutchtownstl.org.
You can also download the complete application packet here.
Grants You Can Apply For
There are over a dozen types of grants that businesses can apply for (though each business can only apply for one or two grants). But in addition to the categories below, applicants are also encouraged to be creative—tell MMSC what your business needs, and grants may be available.
Below are a few examples of grants your business may consider applying for. Again, feel free to get creative! If your business has unique needs (and they all do), we can help tailor your application to demonstrate those needs.
Direct Entrepreneur Support in Retail and Restaurant Development
Get grants to help you strengthen your business range in amounts from $2,260 to $6,900. These grants can be used for business evaluation, developing a business plan, implementing business solutions, local sourcing identification, developing operational growth initiatives and shifts, and establishing business promotions.
Get a Business Evaluation
Have professional consultants assess the state of your business and make suggestions for improvement such as maintaining inventory, getting on top of new trends, or merchandising your shop in a more appealing way. Grants for business evaluations are available for $2,260, requiring an initial 5% match of $113.
Build a Business Plan
Does your business have a formalized business plan? Apply for assistance developing your plan with trained business consultants. Lay out a roadmap for building your business to be financially secure, operationally efficient, and ready for growth. Grants for business plans are available from $2,760 up to $4,710. Your 5% initial investment would be $138 to $235.
Implement Business Solutions
After assessing your business's needs, consultants can offer and implement solutions to address issues such as staffing, bookkeeping, and financing. Grants for business solutions range from $2,760 to $5,060 and require an upfront match of $138 to $253.
Local Sourcing Identification
Multiply your support for the local economy by sourcing your products from other local businesses. Get help finding nearby inventory, shortening your supply chain, and keeping business local. These grants are available from $2,260 to $5,060, requiring a 5% match of $113 to $253.
Operational Growth Initiatives and Shifts
Looking to grow? Consultants will help you plan to add staff, expand your shop, or open additional locations. Operations grants range from $2,300 to $4,600 and need an upfront match of $115 to $230.
Develop Business Promotions
Create a promotion plan built around special sales, events, and more that will help you build a broader customer base. Promotion grants are available from $2,300 to $6,900. An initial 5% match of $115 to $345 will be required.
Website Development
Build your new e-commerce platform to attract customers who might not otherwise make it to your front door. Grants for website development are available in the range of $4,600 to $8,000.
Build Your E-Commerce Website
Did you find your customers asking if they could shop online during the pandemic, but you had nowhere to send them? Apply for a grant to develop a website and online shop for your business. Professional developers will help you build a web storefront to attract customers who may not be able to visit your shop in person. Grants for website development range from $4,600 to $8,000. The 5% initial investment would be $230 to $400.
Economic Vitality Toolkit
Plan for your business's ongoing success with grants from $4,260 to $11,960. These grants can be used to prepare a business marketing plan or an owner succession plan.
Individual Business Marketing Plan
Get a custom tailored marketing plan for your business covering a wide range of opportunities to expand your reach. These marketing plan grants are available in amounts from $9,200 to $11,960. The initial match would be $460 to $598.
Business Owner Succession Plan
If you're considering retiring, selling your business, or otherwise gracefully exiting from your current operation, consultants can help you plan the next steps. Succession plan grants range from $4,260 to $8,060, requiring a 5% match of $213 to $403.
Micro-Business Development Services
Experimental business models can get off the ground with grants from $2,260 to $6,080. These grants include featured artisans utilization and cooperative business models for testing market potential.
Featured Artisans Utilization
Expand your business's offerings by partnering with local makers. Create an exclusive new retail line with a local designer or craft a special menu by partnering with area farmers. These grants are available in amounts from $2,260 to $5,060, requiring a 5% match of $113 to $253.
Cooperative Business Models
Test new businesses and ideas by partnering with existing businesses. These grants range from $4,260 to $6,080. You must provide the initial match of $213 to $304.
E-Commerce Sales Training
Get help developing your online presence with grants ranging from $1,800 to $8,260. Use grants to develop a business social media marketing plan, explore advertising tactics, increase social media engagement, diversify your customer base, and utilize and increase sales on online platforms.
Business Social Media Marketing Plan
Social media consultants can help you get on a variety of platforms and develop a plan to attract and target new and existing customers. You can apply for grants ranging from $4,600 to $7,360, which would require a 5% match of $230 to $368.
Advertising Tactics
Consultants will discuss your business goals with you, then develop an advertising plan to help you reach those goals. This grant is for $1,800. A match of $90 is required.
Social Media Engagement
Work with a social media consultant to expand your reach and engage with new and existing customers. An $1,800 grant is available which would require a 5% match of $90.
Diversify Your Customer Base
Learn how to expand your customer base with market-driven strategies to attract new customers. Grants range from $2,300 to $5,060, requiring an initial match of $115 to $253.
Increase Sales on Online Platforms
Do you already sell online? Learn how to make your online storefront more effective to drive greater sales. This grant ranges from $2,600 to $8,260. A match of $130 to $413 is required.
Apply ASAP!
The application period ends on May 7th. Again, we'll have open hours at the Neighborhood Innovation Center on Saturday, May 1st from 10am to 3pm. We'll also be offering appointments to help you complete your grant application. You can download the application here.