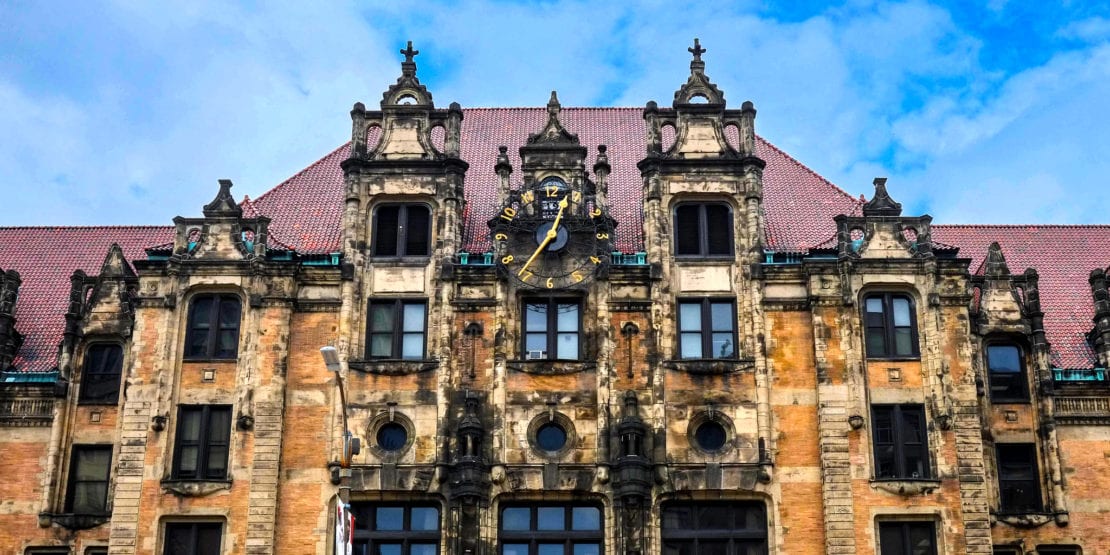 Dutchtown is served by a number of different elected officials at the city, state, and federal level. We've gathered important contact information for your aldermen, state representatives, and more.
As such a geographically large neighborhood, the various district boundaries cut across Dutchtown every which way. Where available, we've included links to maps and address locators so that you can verify you're contacting your elected representative.
St. Louis Board of Aldermen
The Board of Aldermen is St. Louis's legislative body. Beginning in the spring of 2023, the City will be divided into 14 wards, each represented by one alderperson. This works out to about 20,000 people represented by each alderperson. With roughly 30,000 residents in the Greater Dutchtown neighborhood, we end up being represented by several different officials.
A Note About Contacting Your Alderman

While we elect our aldermen to serve us as residents and business owners, sometimes there are better channels for seeking help with issues in your neighborhood. The Citizens' Service Bureau and your Neighborhood Improvement Specialist both work directly with city departments to help resolve issues. If you're still having problems, you can contact your alderman to intervene.

We've got extensive guides to help you contact the CSB and work with your NIS right here at DutchtownSTL.org.
The Greater Dutchtown neighborhood is currently within the jurisdiction of five different wards. If you're not quite sure of which ward you're in, look up your address on the City of St. Louis website.
The 25th Ward
The 25th Ward of St. Louis covers a significant swath of Dutchtown, particularly the western, central, and southern portions of the neighborhood. The Downtown Dutchtown area around Virginia and Meramec is located within the 25th Ward.
Ald. Shane Cohn has represented the 25th Ward since 2009, when he became the first openly gay elected official in St. Louis history. Ald. Cohn chairs the Transportation and Commerce Committee and sits on the Housing, Urban Development, and Zoning Committee as well as the Public Employees and Personnel and Administration Committees. As he enters his fourth term in 2021 he becomes one of the more senior ranking members of the Board.
You can reach Ald. Cohn's office at City Hall by calling (314) 622-3287. His city email address is cohns@stlouis-mo.gov.
The 20th Ward
St. Louis's 20th Ward also covers a broad portion of Dutchtown. Most of Dutchtown north of Meramec Street falls within the 20th Ward, as does all of Gravois Park (including the southern side of Cherokee Street west of Jefferson), a significant chunk of Marine Villa, and a sliver of Mount Pleasant.
Ald. Cara Spencer
20th Ward
The 20th Ward is represented by Ald. Cara Spencer. Ald. Spencer was elected in 2015 and reelected in 2019. She chairs the Board of Aldermen's Intergovernmental Affairs Committee and sits on the Public Employees, Public Safety, and Ways and Means Committees.
Ald. Spencer can be reached by telephone at (314) 622-3287 or by emailing spencerc@stlouis-mo.gov.
The 9th Ward
Ald. Dan Guenther
9th Ward
The 9th Ward is one of St. Louis's more uniquely shaped wards, curving all the way from the Soulard neighborhood up north and down to the Greater Dutchtown neighborhood. Portions of Marine Villa and the majority of Mount Pleasant are included in the 9th Ward's territory, and the 9th also encompasses a long stretch of Cherokee Street.
Ald. Dan Guenther began serving the 9th Ward when he was elected in 2017 and was reelected in 2021. He chairs the Board of Aldermen's Convention and Tourism Committee as well as serving on the Engrossment, Rules, Resolutions and Credentials, Health and Human Services, and Neighborhood Development Committees. You can contact Ald. Guenther at (314) 622-3287 or guentherd@stlouis-mo.gov.
The 11th and 13th Wards
Ald. Sarah Martin
11th Ward
Ald. Anne Schweitzer
13th Ward
The city's 11th Ward and 13th Ward cover a small amount of ground in the south end of the Greater Dutchtown neighborhood. The 13th occupies the area near St. Mary's High School and the southern two blocks of the St. Cecilia Historic District, with most of the ward stretching westward to include Bevo and Princeton Heights among other neighborhoods. The 11th includes the south end of Mount Pleasant, but mostly covers the Carondelet, Patch, and Holly Hills neighborhood.
The 11th Ward is served by Ald. Sarah Martin. Ald. Martin won her first term in 2017. Her office phone number is (314) 622-3287 and her email address is martins@stlouis-mo.gov.
Ald. Anne Schweitzer serves the 13th Ward since winning election in 2021. She can be reached at (314) 622-3287 or schweitzera@stlouis-mo.gov.
President of the Board
The Board of Aldermen President is Lewis Reed, who has held the position since 2007. The Board President presides over the Board and is one of the three members of the Board of Estimate and Apportionment, the others being the mayor and the comptroller. The E&A Board are ultimately responsible for the city's annual budget and expenditures.
President Reed's office can be contacted via email at reedl@stlouis-mo.gov or by calling (314) 622-4114.
Other St. Louis Elected Officials
A number of other officials are elected and serve in citywide offices.
Mayor
Of course, the most prominent city elected official is the mayor. Mayor Tishaura O. Jones was elected in April of 2021 after serving as the city's treasurer and a Missouri state representative for many years prior.
Mayor Tishaura O. Jones
Mayor Jones sits on the three-member Board of Estimate and Apportionment which is responsible for approval of the city's budget and appropriations. The mayor also appoints department heads across city government, deciding key roles in public safety, streets, parks, and health and human services among several others.
The Mayor's Office can be reached via telephone at (314) 622-3201. You can contact the Mayor's Office here.
Comptroller
The city's comptroller is the Chief Fiscal Officer for St. Louis. Comptroller Darlene Green has been in office since 1997 and will soon reach the quarter century milestone in the role.
The Comptroller's Office manages the city's finances including assets, debts, grants, and payroll. The office is also responsible for auditing and financial reporting. The comptroller is another of the three members of the Board of Estimate and Apportionment, making key financial decisions for the city.
Collector of Revenue
The Office of the Collector of Revenue collects real estate taxes, personal property taxes, and earnings taxes, as well as water and refuse bill payments. Longtime city politician Gregory F.X. Daly has filled the position since 2006.
License Collector
The License Collector's Office issues business licenses and collects additional fees and taxes from businesses. Mavis Thompson was elected to the position in 2014 and is currently serving her second term.
Recorder of Deeds
The Office of the Recorder of Deeds is the keeper of city records including land records such as deeds and titles, birth and death certificates, marriage licenses, and historic documents. The current Recorder of Deeds is Michael Butler, elected in 2018.
State of Missouri Elected Officials
Missouri House of Representatives
As with the Board of Aldermen, the Greater Dutchtown neighborhood is spread across multiple state house districts. With 163 representatives across the state representing approximately 37,000 residents each, districts in our dense city are compact. Nearly a dozen districts cover portions of St. Louis.
You can find maps of your district on the Missouri Office of Administration website, or find your State Representative on the City's address search website.
House District 78
Rep. Rasheen Aldridge
78th District
The 78th District of Missouri spans the St. Louis riverfront from the Near North Side, across Downtown, and south into Dutchtown. Northeast Dutchtown, most of Gravois Park, and a portion of Marine Villa are within the district.
Rep. Rasheen Aldridge represents the 78th District after winning a special election in 2019 and being elected to a full term in 2020. You can email him at Rasheen.Aldridge@house.mo.gov or call his office in Jefferson City at (573) 751-2383.
House District 81
Rep. Steve Butz
81st District
The 81st District includes most of Dutchtown proper, Marine Villa, Mount Pleasant, and slivers of Gravois Park. The district also covers significant portions of Holly Hills, Bevo, and Carondelet in the southeast sector of St. Louis.
The 81st District's representative is Rep. Steve Butz, initially elected in 2018. Contact his office at (573) 751-0438 or email him at Steve.Butz@house.mo.gov.
House District 80
Rep. Peter Meredith
80th District
Covering just a small portion of Dutchtown west of Grand and north of Meramec, the 80th District is mostly oriented around the Tower Grove South, Shaw, and Southwest Garden neighborhoods.
Rep. Peter Meredith represents the 80th District since being elected in 2016. Contact his office at (573) 751-6736 or Peter.Merideth@house.mo.gov.
Missouri Senate
Compared to House districts, state senate districts are geographically much larger. Only two senatorial districts cover the City of St. Louis, with all of Greater Dutchtown included in the 5th District.
Senate District 5
Sen. Steven Roberts
5th District
The 5th Missouri Senatorial District covers the eastern two thirds of St. Louis including all of Dutchtown, Gravois Park, Mount Pleasant, and Marine Villa. The district stretches from the Baden neighborhood on the far north side of the city all the way down to the southern city limits.
Sen. Steven Roberts, elected in 2020, represents the 5th District in Jefferson City. You can contact his office at (573) 751-4415 or via an online contact form.
Statewide Elected Officials
Governor
Missouri's governor is Gov. Mike Parson. Formerly Lieutenant Governor, he entered the position after the resignation of the previous governor in 2018, then was elected in 2020. The Governor's Office can be reached at (573) 751-3222 or via an online contact form.
Attorney General
The Attorney General for Missouri is Eric Schmitt. The Attorney General handles civil matters including consumer protection, as well as criminal matters at the state level. Contact the Jefferson City office at (573) 751-3321, or their local St. Louis office at (314) 340-6816. For electronic communications, visit the Attorney General's contact page.
Secretary of State
Sec. Jay Ashcroft is Missouri's Secretary of State. The Secretary of State's Office handles a wide variety of issues pertaining to elections, business services, and record keeping. Contact the Secretary of State at (573) 751-4936 or info@sos.mo.gov. A number of department specific contacts are available on the SoS website.
Other Missouri Elected Officials
Scott Fitzpatrick
(573) 751-8533
info@treasurer.mo.gov
Nicole Galloway
(573) 751-4213
moaudit@auditor.mo.gov
Mike Kehoe
(573) 751-4727
Federal Elected Officials
At the highest levels of representative government are federal elected officials including congressional representatives, senators, and the president.
United States House of Representatives
1st District Rep. Cori Bush
Rep. Cori Bush
1st Congressional District
Rep. Cori Bush was elected in an upset victory over a long-time incumbent to represent the 1st Congressional District of Missouri in 2020. The 1st District covers the entirety of the City of St. Louis.
Rep. Bush has offices in both Washington D.C. and St. Louis. You can reach the local office at (314) 367-1970 or call the Washington office at (202) 225-2406. You can also contact Rep. Bush's office via her website.
United States Senate
Senators are elected to represent their entire state. Missouri has two senators, Sen. Roy Blunt and Sen. Josh Hawley.
Sen. Blunt's St. Louis office can be reached at (314) 725-4484. The Washington D.C. office can be reached at (202) 224-5721. There are also a number of contact options on the senator's website.
Sen. Hawley can be contacted via his local office at (314) 354-7060 or in Washington at (202) 224-6154. You can also contact Sen. Hawley's office via his website.
The White House
President Joseph Biden was inaugurated on January 20th, 2021. To send comments the White House offices, you can call (202) 456-1111, or you can reach the switchboard at (202) 456-1414. The White House also has an online contact form.