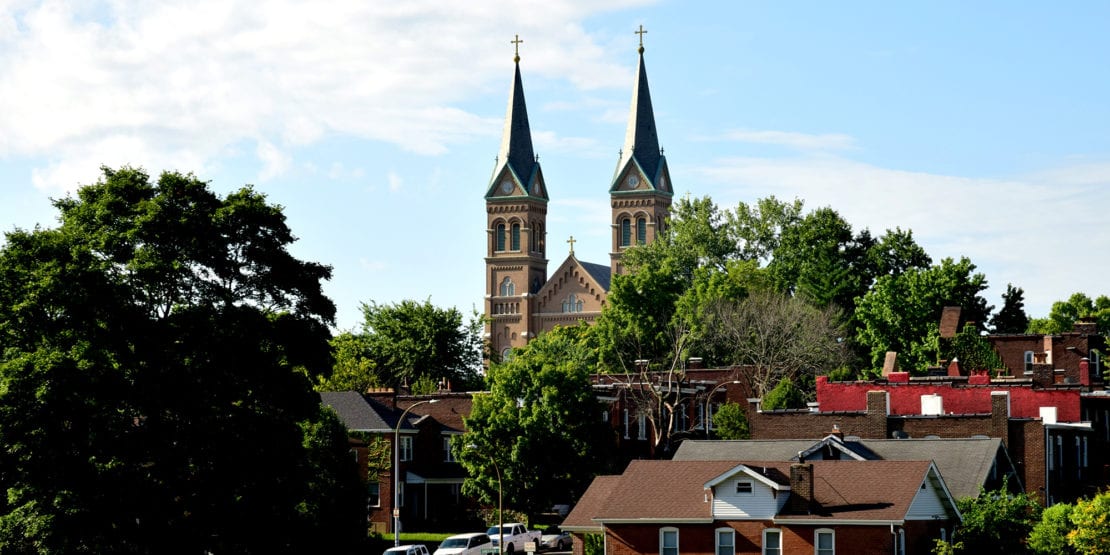 Dutchtown is a neighborhood on the South Side of St. Louis, Missouri. The Dutchtown neighborhood is the most populous and geographically one of the largest of the city's 79 neighborhoods. Dutchtown is home to a diverse population, a variety of historic architecture, multiple city parks, and all sorts of shops, restaurants, and other businesses.
The boundaries of what's generally referred to as "Dutchtown" are quite fuzzy. The City of St. Louis defines some very specific boundaries. But signs around the neighborhood will tell you that "You Are In Dutchtown" when you are, in fact, in Gravois Park, Mount Pleasant, or Marine Villa. Here at DutchtownSTL, we approximate Dutchtown to be everything in between Cherokee Street or Chippewa Street to the north, Bates Street to the south, the Mississippi River to the east, and the Missouri Pacific railroad tracks to the west.
The name "Dutchtown" is based on a St. Louis-style mispronunciation of "Deutsch," the German immigrants who flocked to and built up this large swath of southeastern St. Louis beginning in the second half of the nineteenth century. The Dutchtown name has caught on in recent decades, but a lot of folks still just call it "the South Side."
Dutchtown's Commercial Corridors and Main Drags
In 2020, Dutchtown Main Streets formed a partnership with Missouri Main Street Connection for the St. Louis Main Streets initiative to strengthen the economic, social, cultural, and environmental well-being of Downtown Dutchtown and the surrounding commercial corridors.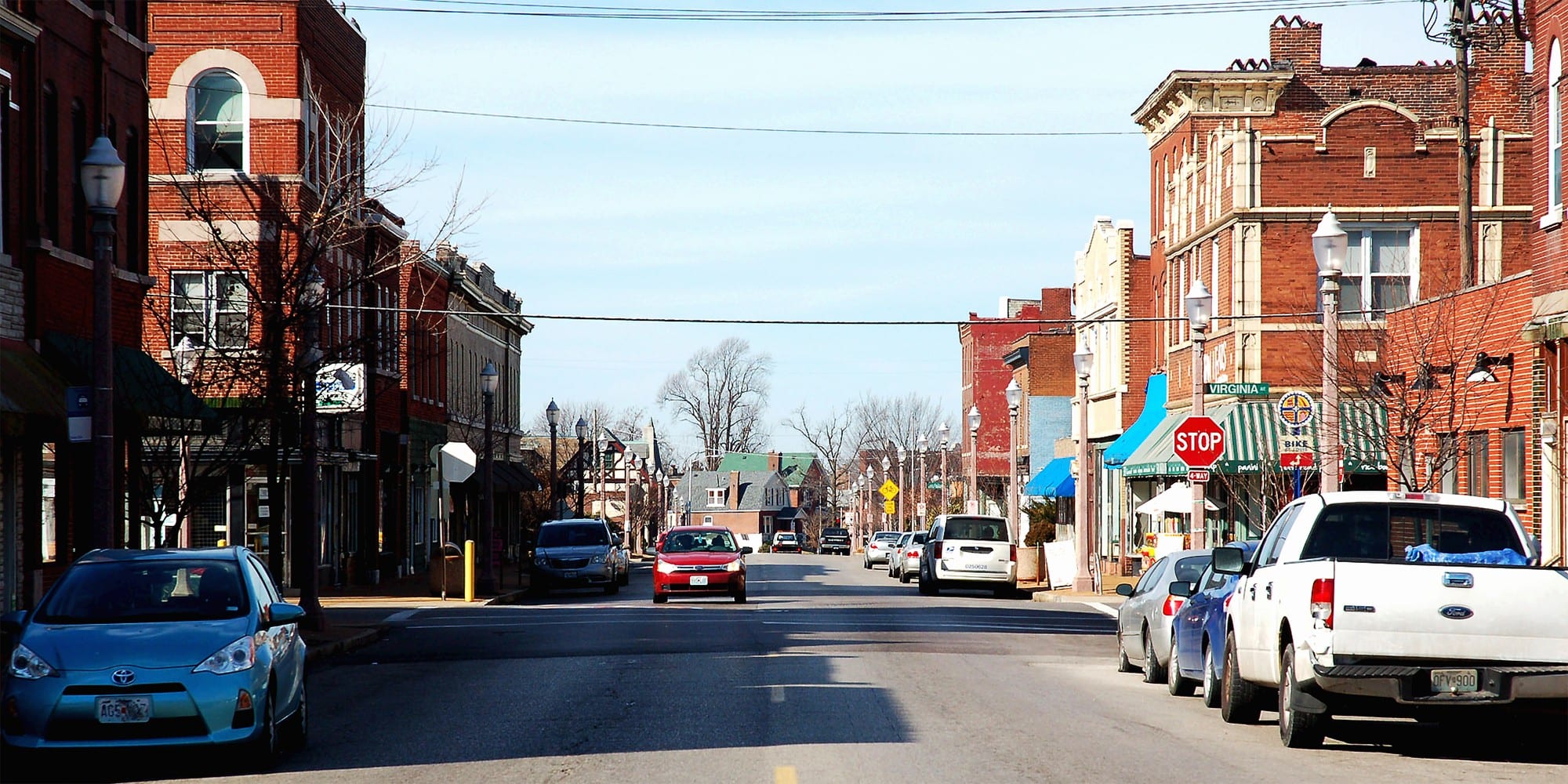 Downtown Dutchtown: Meramec Street
Meramec Street east of Grand Boulevard is referred to as "Downtown Dutchtown." The neighborhood commercial strip features cafés and bars, resale shops, and other services.
At Meramec and Virginia you can find some of the neighborhood's strongest anchors: Winkelmann Sons Drug has been at the southwest corner since 1913. Urban Eats Café offers food, drink, and space for all kinds of community gatherings and enterprises. And Dutchtown South Community Corporation works to develop and stabilize the neighborhood and empower the surrounding community.
The historic Feasting Fox building serves as the western landmark on Meramec. At the eastern end is St. Anthony of Padua Catholic Church, whose towering twin steeples can be seen from all over the South Side.
South Grand Boulevard
South Grand Boulevard features many businesses catering to the variety of immigrants that call Dutchtown home. Vietnamese restaurants, grocers, and coffee shops occupy this stretch of Grand, along with the Gurung Bazaar and other shops serving the Nepali immigrant community, Several small churches, restaurants, and other shops and offices fill in the rest of South Grand in Dutchtown.
In addition to the evolving lineup of shops catering to the ever-changing community are businesses that have called Dutchtown home for decades: Merb's Candies, famous for their Bionic Apples and chocolate-covered strawberries; the landmark Feasting Fox Restaurant, awaiting a new generation of ownership; and of course Ted Drewes Frozen Custard — the older but lesser-known location, featuring shorter lines and easier parking than the bustling St. Louis Hills location. St. Mary's Catholic High School and their 27 acre campus hold down the southern end of Grand at Delor Street.
Recently Habitat for Humanity St. Louis renovated a long-vacant 50,000 square foot building at South Grand and Chippewa Street to serve as their headquarters, warehouse, and the Habitat for Humanity ReStore, an outlet offering new and reusable construction materials and tools. To the north, Garcia Properties recently purchased the Grandview Arcade Building in Gravois Park for redevelopment after decades of vacancy.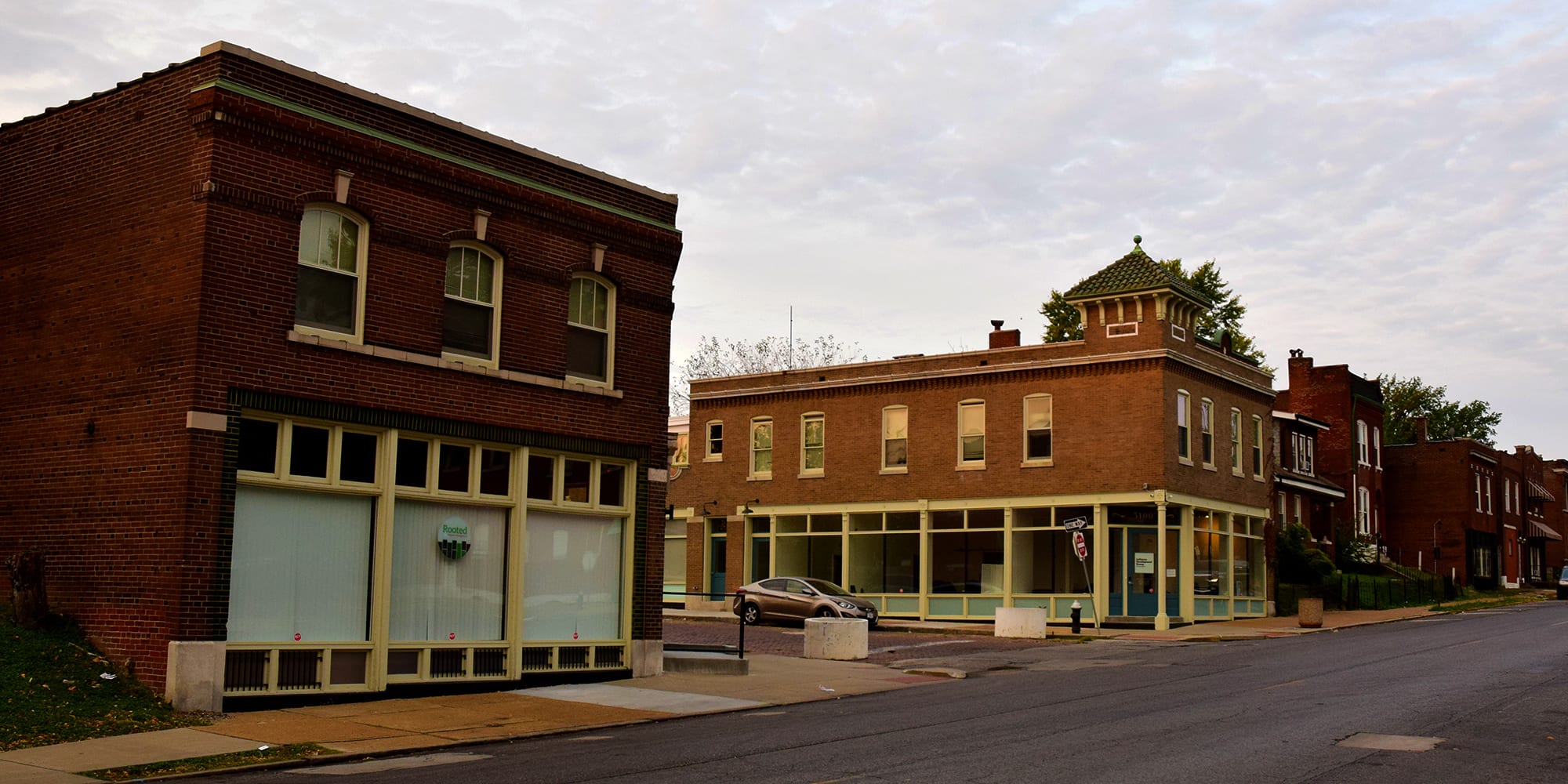 Chippewa Street
Chippewa Street, the official boundary between Gravois Park and Dutchtown proper, has suffered from disinvestment in recent decades. However, Rise Community Development and Lutheran Development Group's $12 million Chippewa Park project are tackling vacancy and quality housing issues in the area by redeveloping fifteen buildings on or near Chippewa. The recently adopted Gravois-Jefferson Historic Neighborhoods Plan lays the groundwork for future development planning, with a special focus on the under-appreciated Chippewa Street.
South Broadway/South Jefferson
A wide assortment of businesses are based along South Broadway and South Jefferson, which merge at Chippewa Street. Liberty Hardware, Sump Coffee, and Don's Meat Market are some of the small businesses along the strip. Concordia Publishing House has been in the area for over 150 years, as has St. Alexius Hospital, and the German Cultural Society also harkens back to the early settlers of the area.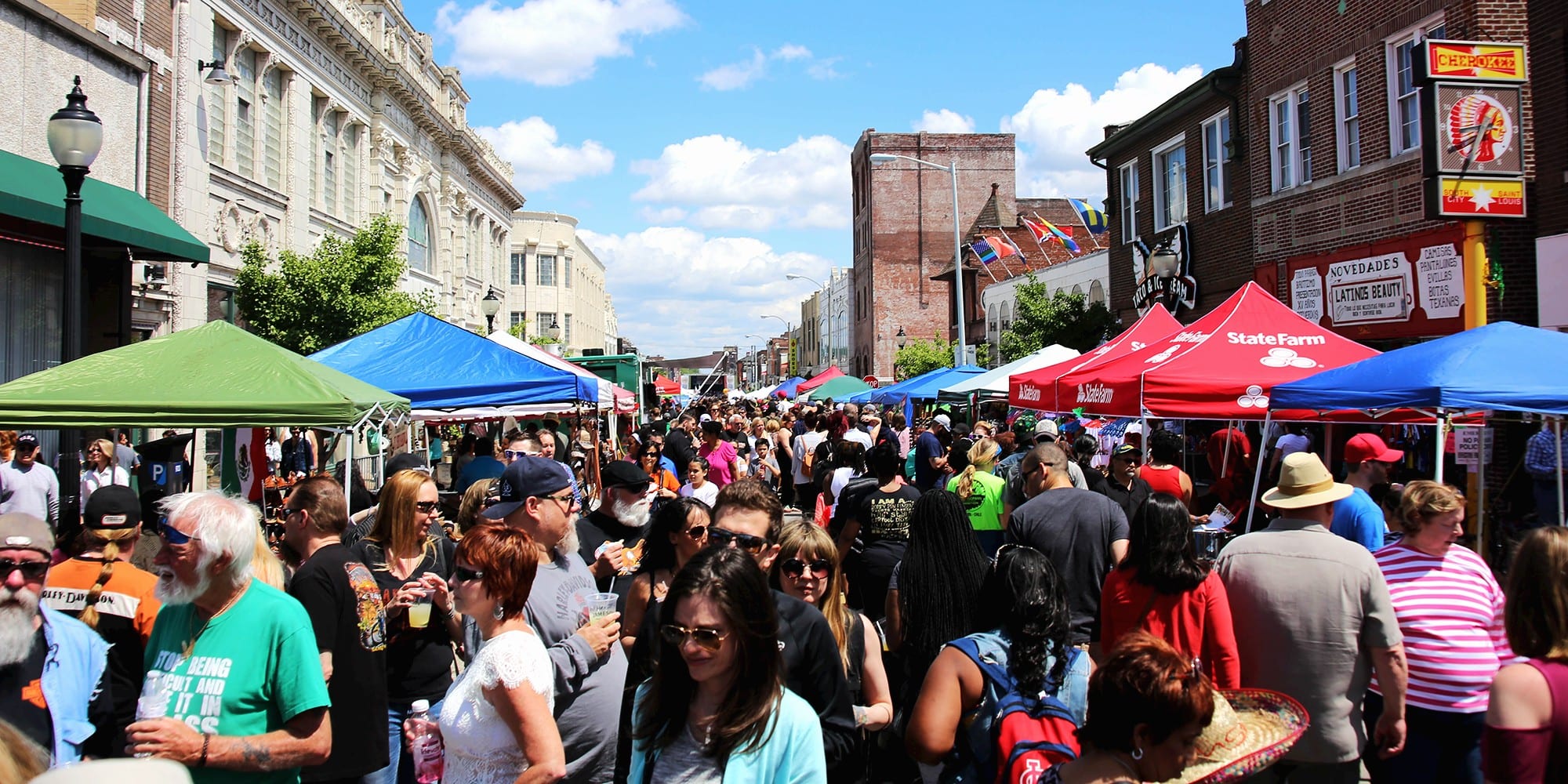 Cherokee Street
Cherokee Street has been a popular shopping and entertainment destination since the late nineteenth century. At that time, Cherokee hosted many department stores and theaters in addition to smaller specialty shops.
Cherokee Antique Row, between Jefferson and Lemp Avenues, has long been a regional draw. Dozens of antique dealers, along with cafés, art studios, and other shops, line the eastern portion of Cherokee Street and bring antique hunters in from all overs.
West of Jefferson, Cherokee Street has been reborn through investment from the Mexican-American community. Mexican grocery stores, taquerias, clothing stores, beauty parlors, and gift shops popped up west of Jefferson. More recently, Cherokee has attracted artists and bohemians seeking authentic and inexpensive city living. With them came art galleries, performance spaces, pizzerias, cocktail bars, and a brewery. Both cultures thrive side-by-side, and Cherokee Street is now a popular dining destination and nightlife spot.
Parks in Dutchtown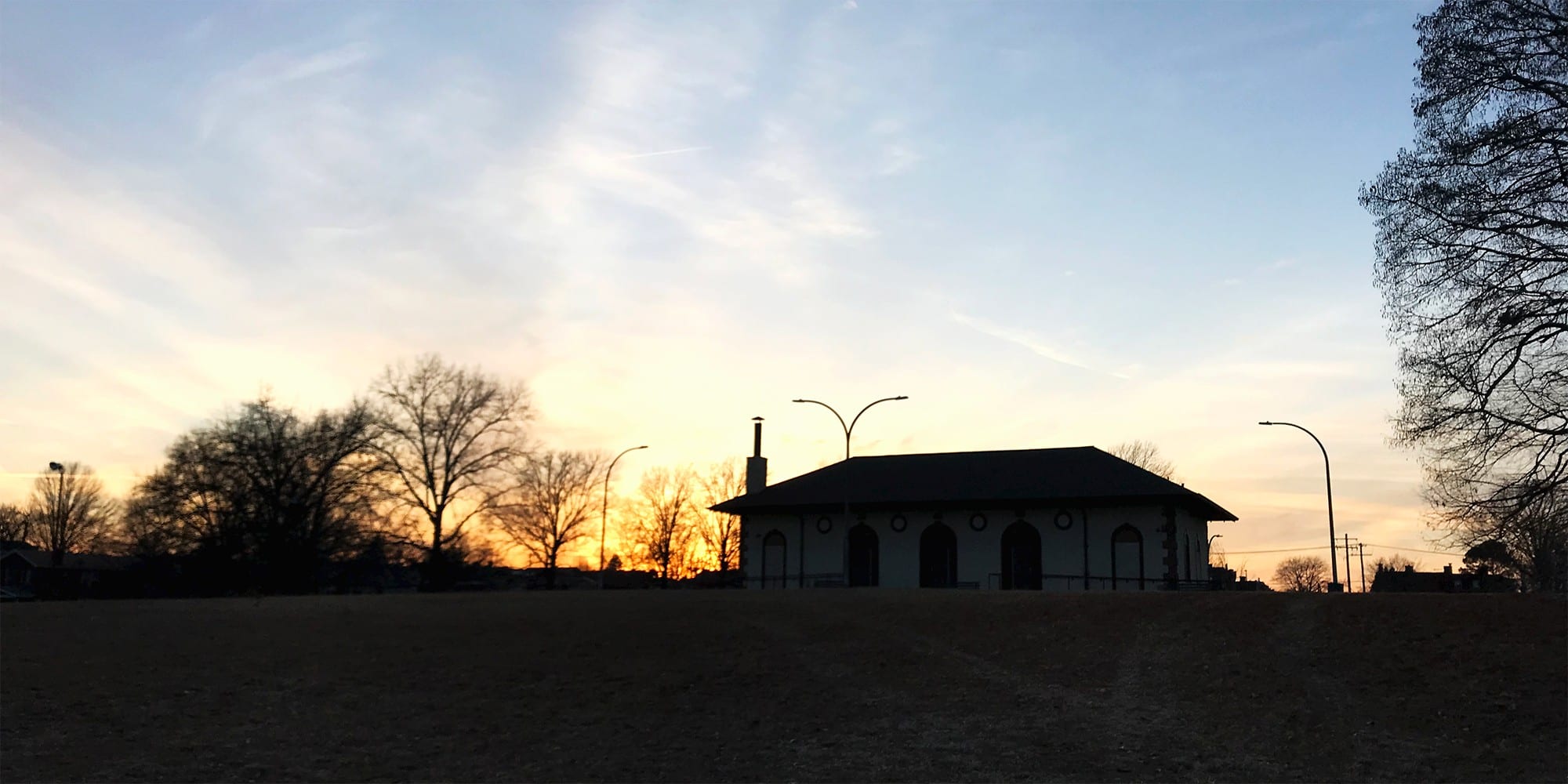 Marquette Park
In the center of the neighborhood, straddling Compton Avenue, is Marquette Park. Marquette features the largest free outdoor public pool on the South Side. The newly renovated Marquette Park Field House overlooks the neighborhood and provides a great space for meetings, receptions, and more. The Marquette Recreation Center includes a basketball gym and provides activities for youth in the neighborhood. Sports fields, tennis courts, and a playground round out Marquette Park's amenities.
The Allies of Marquette Park is a recently formed organization that aims to reactivate the park and improve its facilities. A fundraiser in the summer of 2019 raised over $7,000 to provide furniture and other comforts at the pool. Other efforts include upgrades to soccer facilities.
Find more information about Marquette Park, including upcoming events, right here on DutchtownSTL.org.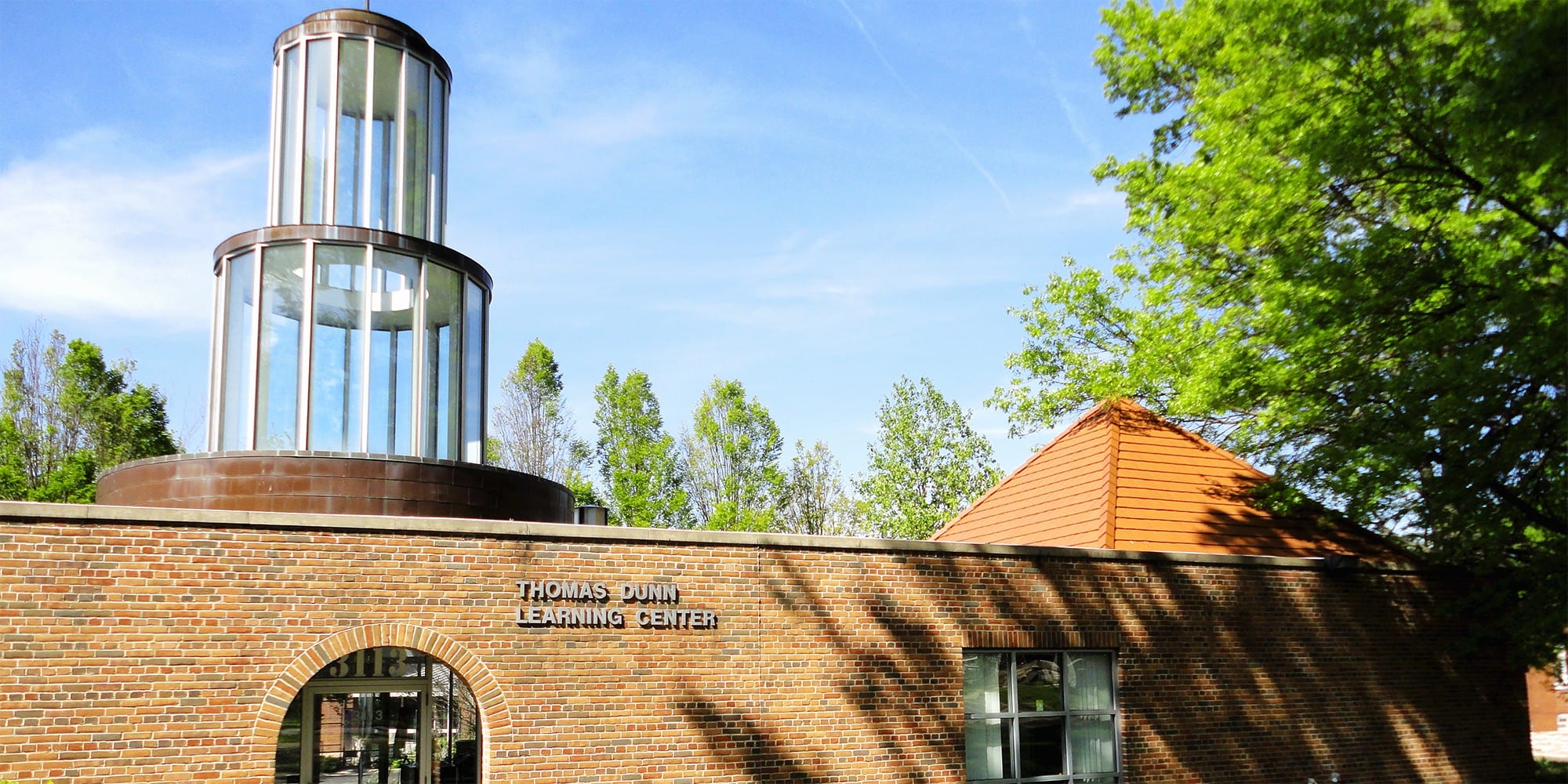 Thomas Dunn Learning Center
Thomas Dunn Learning Center stands at the southeast corner of Marquette Park at Minnesota and Gasconade. The facility features a computer lab, an art studio, a demonstration kitchen, a library, a community garden, and multiple meeting spaces. In addition to hosting many public and private meetings and events, Thomas Dunn also offers open computer and art lab hours, HiSET (GED) classes, parenting education, financial counseling, youth summer camps, and much more.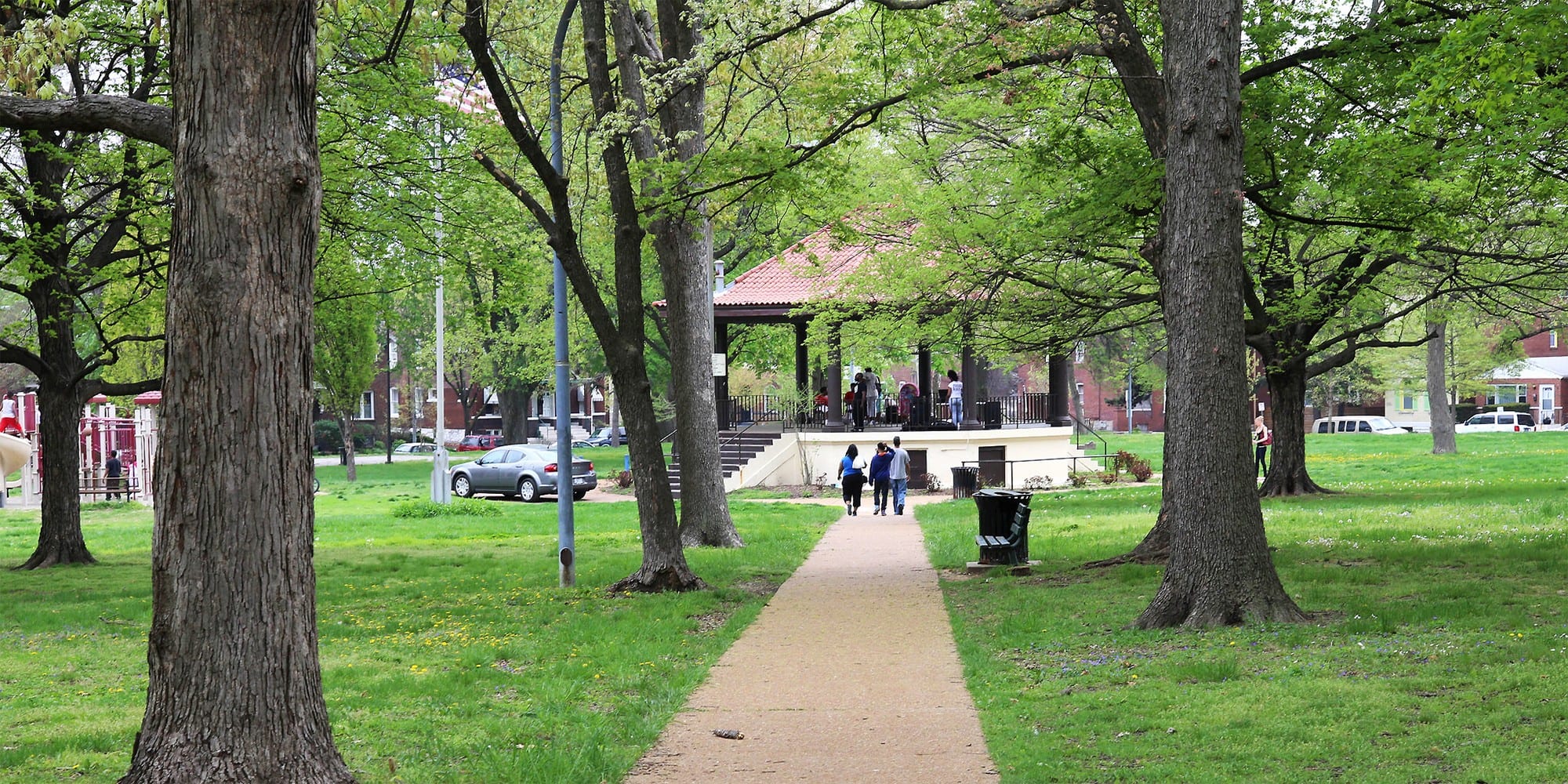 Gravois Park
Due north of Marquette is Gravois Park, from which the surrounding neighborhood takes its name. Gravois Park was established in 1812, and eventually the neighborhood grew up around it. The park features a beautiful pavilion at its center, and recently a new playground was built.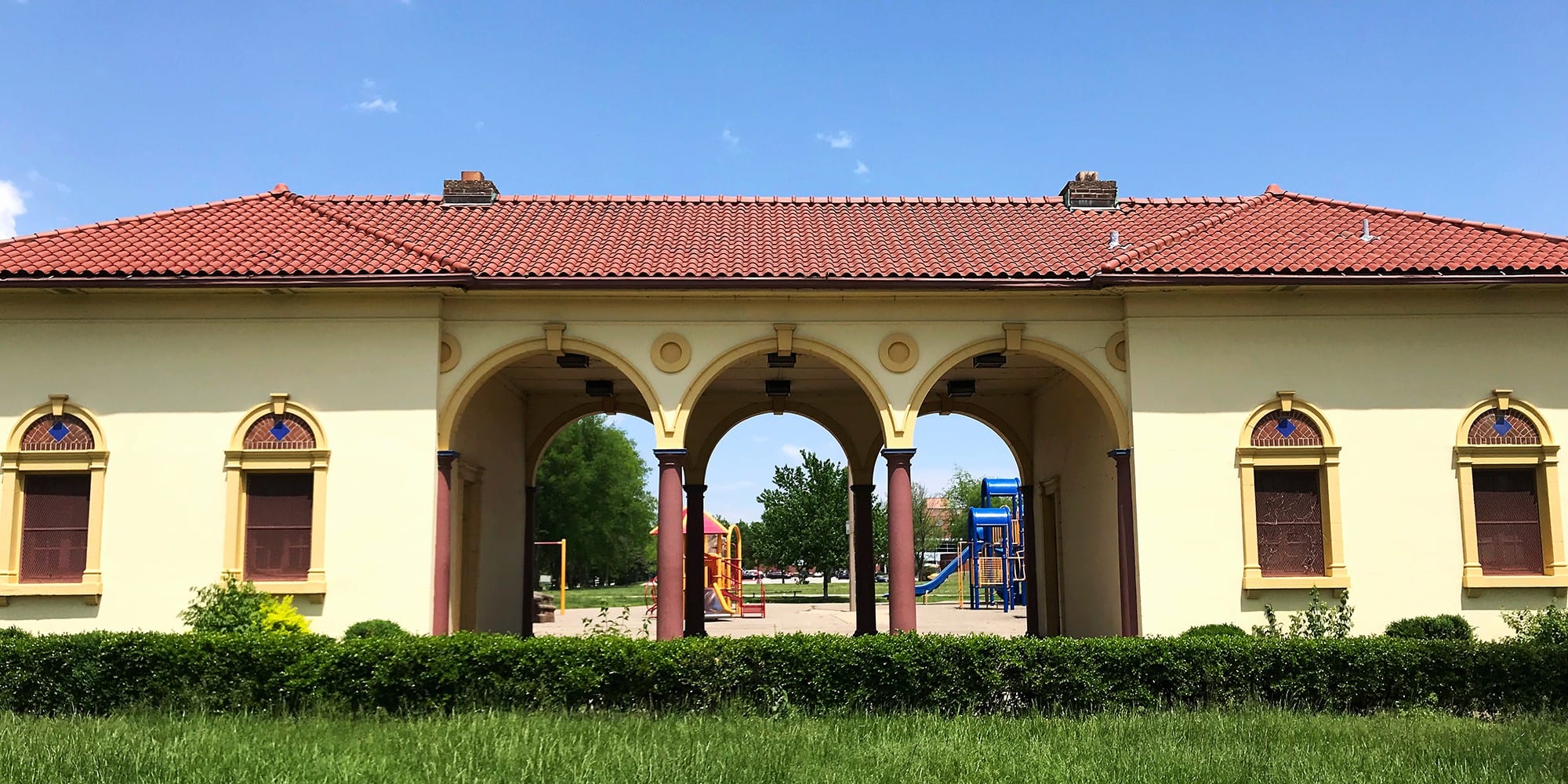 Laclede Park and Minnie Wood Memorial Square
To the east, nearly adjacent to each other, are Laclede Park and Minnie Wood Memorial Square. Minnie Wood Square, at South Broadway and Meramec, is distinguished by the bright yellow pavilion at that corner. The park also features several multi-purpose sports fields and a playground. Laclede Park, at Gasconade and Iowa, lacks the amenities of neighboring Minnie Wood, but does have the distinction of being established way back in 1812. Dutchtown South Community Corporation established their Friends of Pocket Parks project to rejuvenate the parks through community input
Mount Pleasant Park
The Mount Pleasant neighborhood takes their name from Mount Pleasant Park at Michigan and Dakota. This pocket park features a roller hockey rink and a playground.
Amberg Park
Amberg Park is in the western section of Dutchtown, at Gustine, Keokuk, and Dunnica Avenues. Baseball diamonds, a newer playground, and a renovated gazebo are some of the amenities at Amberg Park.
Demographics of Dutchtown
The four neighborhoods that comprise Dutchtown have a total population of about 30,000 people. The Dutchtown area is among the most densely populated areas of St. Louis.
Dutchtown is quite diverse. While largely black and white, the Latino population is growing quickly. A long-established Vietnamese community and many other immigrants from across the globe make up a substantial portion of the population as well. The population of Dutchtown is very young, with approximately a third of its residents under the age of 18.
Learn more about the demographics of Dutchtown, now and through the years.
Dutchtown's Architecture
The architecture of the greater Dutchtown area covers just about every style to be found in the St. Louis area. Structures built pre-Civil War, post-World War II, and everything in between can be found in our neighborhood. The oldest architecture is generally found further north and east within the neighborhood, but with plenty of exceptions.
Homes are predominantly brick and range in variety from small shotgun workers' cottages and modest bungalows to stately four-squares and mansions on the bluffs of the Mississippi River. In addition to single-family homes, duplexes and four-family buildings are extremely common. Larger apartment buildings can also be found sporadically through the neighborhood.
The Dutchtown area is home to several districts on the National Register of Historic Places. The Gravois-Jefferson Streetcar Suburb Historic District encompasses all of Gravois Park and the north end of Dutchtown. The St. Cecilia Historic District, especially notable for the heavy use of white-glazed "bakery brick" throughout the district, and the Dutchtown South Historic District cover most of the south end of Dutchtown. The Marine Villa Neighborhood Historic District covers a portion of Marine Villa.
Several individual buildings around Dutchtown are listed on the National Register as well. The sprawling National Candy Company Factory (recently restored by and currently home to U-Haul) is listed, as is the Stork Inn at Virginia and Idaho. Several schools designed by William B. Ittner appear on the register, including the massive Cleveland High School. Listed historic homes include the Miltenberger House on Osceola and the Chatillon De Menil House near the end of Antique Row.
Other architectural standouts in the neighborhood include Catholic churches St. Anthony of Padua and St. Cecilia, the Lemp Brewery complex at the east end of Antique Row, and the Cinderella Building on Cherokee Street.
Political Subdivisions in Dutchtown
The greater Dutchtown area falls mainly within three St. Louis aldermanic wards. The western and southern portions, the 25th Ward, is represented by Ald. Shane Cohn. The 20th Ward covers the northern portion of the neighborhood and is represented by Ald. Cara Spencer. The unusually shaped 9th Ward, served by Ald. Dan Guenther, covers some ground to the north, east, and south. Ald. Sarah Martin's 11th Ward and Ald. Beth Murphy's 13th Ward both cover small slivers of the south end of the neighborhood.
Three Missouri House of Representatives districts cover Dutchtown. The 78th District, represented by Rep. Rasheen Aldridge, covers the northeastern portion of the neighborhood. The 80th District, represented by Rep. Peter Meredith, includes the northwestern corner of Dutchtown. The southern portion of the neighborhood falls into the 81st District, currently represented by Rep. Steve Butz. All of the neighborhood lies within State Senate District 5, served by Sen. Steven Roberts.
At the federal level, Dutchtown is served by U.S. Rep. Cori Bush, U.S. Sen. Roy Blunt, and U.S. Sen. Josh Hawley.
You can find more information about elected officials, including contact information, in our guide to Dutchtown and South Side elected officials.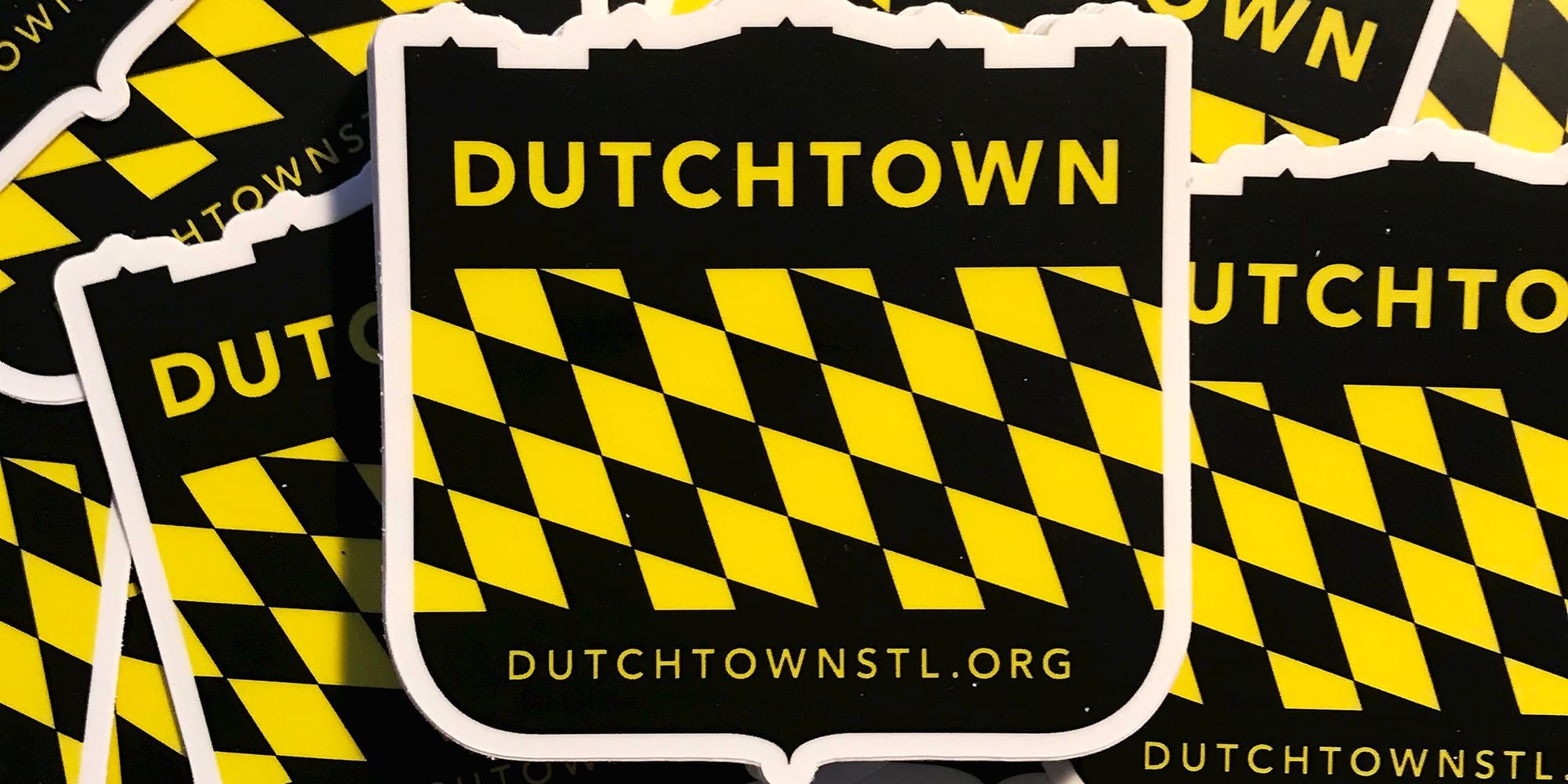 About DutchtownSTL
The mission of DutchtownSTL.org is to evangelize for the Dutchtown neighborhood (defined broadly) and share its present, past, and future with our residents, neighbors, visitors, and anyone else who happens to drop by.
DutchtownSTL will keep an up-to-date calendar of events, provide positive neighborhood news, share stories and pictures, and offer space to anyone who wishes to strengthen our neighborhood now, preserve our neighborhood's history, and promote a bright future for the Dutchtown area.
We'd love it if you helped spread the word about our site, and our neighborhood! Click the share links on our posts and pages to let your friends know what's going on in Dutchtown. You can also like, share, and follow us on Facebook, Twitter, and Instagram.
Seeking Submissions
Contributions and suggestions are more than welcome. Please visit our contact page or email info@dutchtownstl.org with any ideas or questions.
Some of what we're looking for: positive neighborhood news, event announcements, community resources, listings for the Dutchtown Places Directory, historic facts, photos, articles, and anecdotes, personal experiences, photography, or just about anything else. Contact us if you'd like to contribute!
Support DutchtownSTL
Help spread the word by following, liking, and sharing our posts on Facebook, Twitter, and Instagram. We really appreciate when people share our work.
DutchtownSTL is funded in part by Dutchtown Main Streets and the Dutchtown Community Improvement District. Donate to Dutchtown Main Streets to help support the site.
Legal
Read our privacy policy and website terms and conditions.
Many of the photos on this page are courtesy of Paul Sableman.