Citizens' Service Bureau
The Citizens' Service Bureau (CSB) is the City of St. Louis's clearinghouse for day-to-day city service issues. Call CSB for issues with the following:
Air Pollution
Animals
Disability Issues
Disaster Preparedness
Discrimination
Fire Safety Issues
Food Establishment Issues
Graffiti
Inspections (Commercial and Residential)
Parking Meters
Parks
Recreation Centers
Street and Alley Issues
Street Lighting
Traffic Signals
Trash, Debris, and Recycling
Trees
Vehicles
Water
Weeds and High Grass
When you go to the CSB website to report an issue to CSB, the first step is to select from one of the above categories. You'll then provide an address or location of the issue and some additional information about the issue. You will also have the opportunity to upload photos or supporting documents and optionally leave your contact information if you would like to be contacted. Finally, a service request number and resolution date will be issued.
For those who prefer to use the telephone, CSB can be reached at (314) 622-4800. You may have to follow a series of prompts to get your service request headed in the right direction. The CSB phone line is available Monday through Friday, 8am–5pm.
If you're more technologically savvy, a great way to report problems to CSB is via Twitter. Snap a picture with your smartphone and compose a tweet containing the address and a brief description of the problem and send it to @stlcsb and they will reply with a service request number.
The vast majority of issues with city services can be handled by CSB, and when they can't help you directly they will help you find the right department to ask. When in doubt, start with the Citizens' Service Bureau.
Neighborhood Improvement Specialists
The Neighborhood Improvement Specialist serves as a liaison between residents and city services when a more intensive process is required. Neighborhood Improvement Specialists (also known as NISs, NSOs, or Neighborhood Stabilization Officers) work with the Problem Properties Unit of the St. Louis Police Department to abate ongoing nuisances, communicate with elected officials, and travel their assigned wards proactively pursuing problems.
The following NISs are assigned to the Dutchtown area as of this writing:
Neighborhood and Business Associations
A number of organizations in the Dutchtown area serve to bring residents together, improve quality of life in the area, and promote neighborhood businesses.
Neighborhood Associations
Business Associations and Community Development Organizations
Neighborhood Associations Around Dutchtown
Elected Officials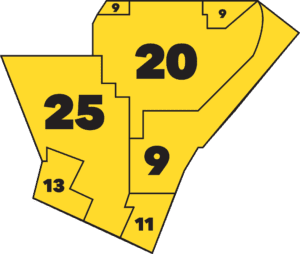 St. Louis Board of Aldermen
Unsure of which ward you're in? Look up your address on the City's website.
Missouri House & Senate
United States House of Representatives & Senate
Emergency Services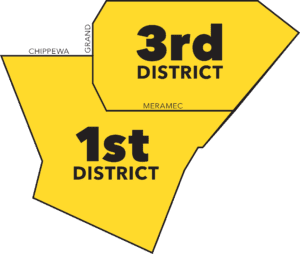 St. Louis Metropolitan Police Department
Call 911, or (314) 231-1212 for non-emergencies. When in doubt, call 911. If you're calling to report an ongoing nuisance, please make sure to use the correct address of the nuisance property — nuisance reports are tracked by address, and correct information helps NISs and the Problem Properties Unit to build cases against the property owner or residents.
District 1: south of Chippewa west of Grand and south of Meramec east of Grand
District 3: north of Meramec and east of Grand
St. Louis Fire Department
Call 911 for service or 314-533-3406 for general questions. Call the general line if you need to request a smoke detector. Less urgent fire safety issues can be reported to the Citizens' Service Bureau at (314) 622-4800.
Utilities
Billing: (314) 622-4179
Open hydrants or running water: (314) 771-4880
Customer service: (314) 771-2255
Billing: (314) 622-4179
Customer service (CSB): (314) 622-4800
Billing: (866) 268-3729
Downed power lines: (800) 552-7583
Customer service: (800) 552-7583
Billing: (800) 887-4173
Report a gas leak: 911 or (800) 887-4173
Customer service: (800) 887-4173
Billing: (866) 281-5737
Customer service: (314) 768-6260
---
Is there something missing from our guide to neighborhood and city resources? Please let us know and we'll try to help you find what you need and add it to our list here.