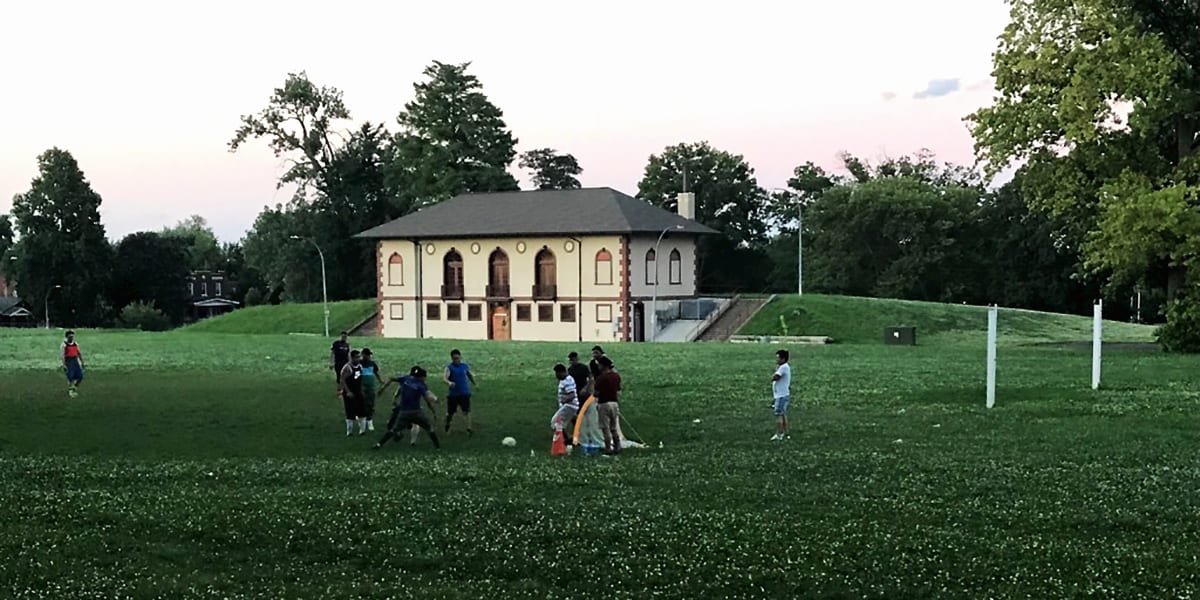 Dutchtown's youth deserve more from St. Louis. Our new MLS team could help bring it to them. In this guest post by DT2 President and Allies of Marquette Park founder Nate Lindsey, we'll learn about the history and future of soccer at Marquette Park. If you'd like to donate to help fund improvements to the soccer field, visit dutch.town/soccer.
---
By most accounts, the sports movie The Game of Their Lives was a flop. However, the film has a cult following locally in St. Louis. It was recently shown outside in Carondelet Park and its popularity will surely grow with the news that a Major League Soccer team is coming to St. Louis.
Partly filmed on Dutchtown's own Marquette Park soccer field in front of the iconic field house, the movie tells the story of the 1950 US Men's National Team that was stacked with local St. Louis talent and against all odds managed to beat England 1-0 in Brazil. According to IMDB, the movie had a budget of $20,000,000, but grossed only $375,000. Considering the film was directed by the same man that brought us Hoosiers and Rudy, it's hard to believe it gained so little notoriety.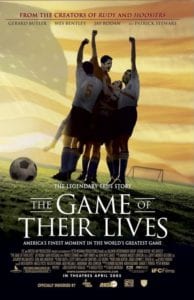 I hadn't even heard of the movie or the historic soccer match until I tweeted out a picture of one of Marquette Park's goal posts that had lost its crossbar and was informed by the Internet that none other than Gerard Butler (playing Frank Borghi) had previously defended that very goal that now stood derelict on the field.
The local St. Louis players in the movie, we are told, were a part of a long tradition of organized Italian-American soccer played in The Hill neighborhood since the early 1900s. The only non-white player on the US National team was Joseph Gaetjens, a Haitian-American who scored the winning goal. While the U.S. National team has become more diverse since the 1950s, there is still a clear soccer interest gap in America defined by race.
Alvin Reid recently wrote about this for the St. Louis American. One quote that stuck with me came from Mark Lewis, a Jamaican native who coaches in the District of Columbia. "I never see a kid in Anacostia carrying a soccer ball. In the white neighborhoods you see that every day."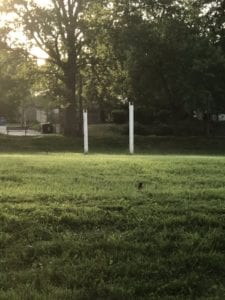 While there are a variety of reasons soccer hasn't become more popular in black communities, one of the greatest is likely accessibility. Many may point to soccer as more economical and therefore accessible given it requires less equipment to purchase than many sports and is even favored by new immigrants to the country bringing a passion for the sport with them, but we need look no further than our city's history and Marquette Park's field to understand how we have short-changed our youth when it comes to opportunities to play the game.
According to the Gravois-Jefferson Historic Neighborhoods Plan produced by Rise Community Development and Dutchtown South Community Corporation the area surrounding Marquette Park is one of the city's youngest (40% under the age of 21), most diverse (78% non-white), and most struggling (39% of households below poverty line) neighborhoods. Yet the city of St. Louis has only recently kicked-off a recreational league for kids in this area.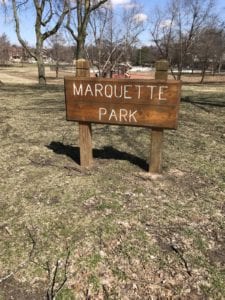 I couldn't be happier that one of the chosen locations for kids to play is Marquette Park, but the current existing conditions of the field leave much to be desired. One of the ongoing tropes throughout the movie is the team's lack of official United States red, white, and blue uniforms. One player repeatedly asks for them and the coach repeatedly tells him they are on the way. The team makes it all the way to the games in Brazil without having any uniforms, despite being told what an honor it is to wear the jersey and represent their country.
This is how our youth in Dutchtown must feel. We hear time and time again how important investment in our youth is. We hear how organized recreational activities and well-utilized parks are not only critical to children's development, but promote safety and neighborhood prosperity as well. Yet we also continually find an excuse not to dedicate investment into even the resources we already have. We give our kids in Dutchtown the "opportunity" to play soccer without balls, on fields without mowed grass, and with goalposts without crossbars.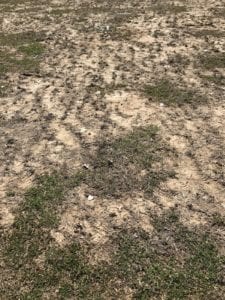 If the MLS and new ownership group wants to build on an already thriving soccer culture in St. Louis, how about putting their dollars where they will go the furthest and promoting the sport where it needs it the most. Building youth soccer from the ground up at Marquette Park provides that opportunity in an area that would normally be overlooked.
When the hero players from The Hill finally got their jerseys, they played like champions shocking the world by defeating England in America's first World Cup victory. Maybe if our kids in the city and around Marquette Park are provided with facilities we can all be proud of, they'll grow up to be the next generation of St. Louis soccer greats. Perhaps, just maybe, someone can dig up this article years from now when a St. Louis kid from Dutchtown is raising the World Cup. It all starts with the decision to create a real opportunity to play the game.
---
Nate Lindsey is the President of Downtown Dutchtown (DT2) and currently organizing Allies of Marquette Park (AMP), which raised over $7,000 last month for improvements to Marquette Park Pool.
If you would like to make a tax-deductible donation in support of AMP's efforts to improve Marquette Park's soccer field and youth soccer in the area, visit dutch.town/soccer.