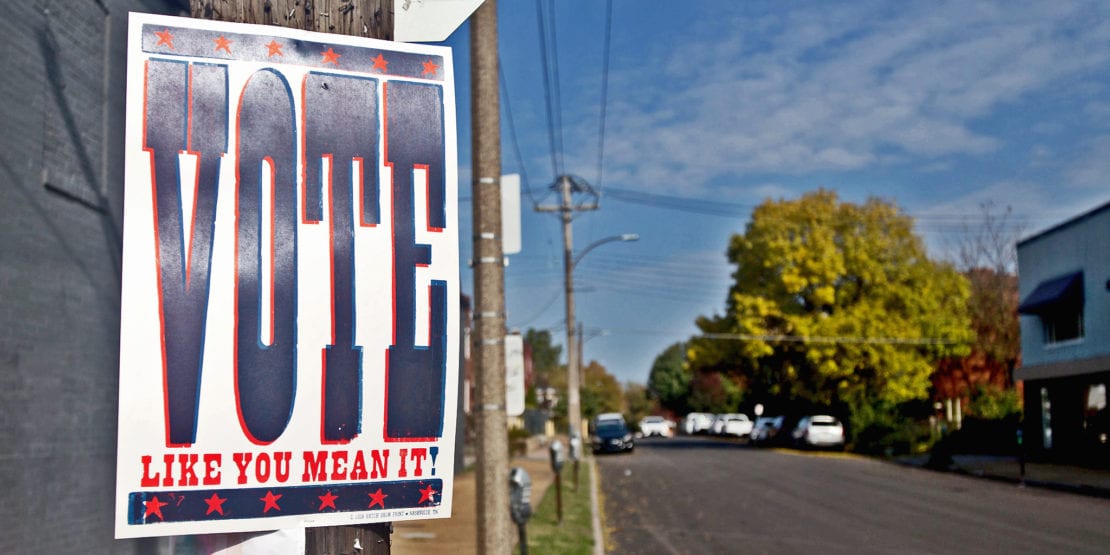 Information for Dutchtown Voters
Use the Translate button in the top menu or go to our translation page to get voting information in Spanish, Vietnamese, Arabic, Nepali, and more.
In partnership with the Dutchtown Justice Alliance, we've assembled some important information for voters in the Dutchtown neighborhood.*
As the largest and most populous neighborhood in St. Louis, our neighbors can have a powerful impact on local elections because in Dutchtown, we are thousands of voters strong. By coming together to vote for the candidates and issues that matter most to our community, we can change power structures and influence policy to work better for our neighborhood.
Table of Contents
What Is Approval Voting?
With the new approval voting system, St. Louisans will need to adjust their voting habits. Showing up to the polls in both March and April is more important than ever.
Approval voting is an electoral system in which voters can select any number of preferred candidates, rather than just one. Voters approved the new approval voting system when they overwhelmingly supported Proposition D in the November 2020 election.
As approval voting has been implemented in St. Louis, we will continue to have two municipal elections—a primary election in March and a general election in April. The primary is where you "approve" candidates to move on to the general election, which functions much like a run-off election.
March Primary Election
During the primary election, you can cast a ballot for any and all candidates of whom you approve. One, two, all, or, none—however and whomever you choose are up to you. Your choices essentially state a preference, or that you would approve of these candidates being in the general election. Unlike a ranked choice voting system, all of your approvals carry equal weight.
Under the new approval voting system, party affiliations have been eliminated. Since the primary election is no longer partisan, you will no longer tell the poll worker which ballot you need—everyone has the same choices and gets the same ballot. Although many candidates still tout their party credentials, you won't see the Democrat or Republican label on the ballot.
April General Election
The two candidates who get the most approvals in the primary move on to the general election in April. With the field narrowed down two just two, a majority of votes (50% + 1) is required to win. In the general election, you must select only one candidate. And the candidate with the most votes moves on to assume office.
How It Used To Work
Previously, municipal elections in St. Louis involved a partisan primary election in March followed by a general election in April. You would ask for a ballot for your party of choice (Democrat, Republican, etc.) and then select which candidate would go on to represent your party in the general election.
Due to the overwhelming inclination towards Democrats in St. Louis (all of the city's elected officials are Democrats), many people considered the primary election to be "the" election. Whichever candidate won the Democratic primary would face little or no competition in the April general election. As such, turnout in the April election was normally much lower than in the March primary.
What Next?
Be prepared! Study the candidates and decide who is deserving of your approval. Without party affiliations to guide many voters, you'll need to know the names of the candidates and make sure they support the policies that you do.
Be patient at the polls! Keep in mind that the approval voting system is relatively new. Take your time to make sure you understand who you're voting for, and give your fellow voters time as well. Plan for a few extra minutes when you head to the polls.
Be persistent! You may have voted in March, but the April election holds renewed importance and value. Show up to the polls for each and every election.
Return to the table of contents.
Find Your Polling Place
You can find your polling place on the Board of Elections website. Your polling place will also be listed on the election notice postcard that you should receive in the mail prior to the election.
Polling Places in the Greater Dutchtown Neighborhood
The locations listed below are the polling places that serve most of our neighborhood. Make sure to verify your polling place by looking up your address on the city's website.
Polling places are open from 6am to 7pm.
25th Ward
20th Ward
Froebel Elementary School, 3709 Nebraska Avenue
Meramec Elementary School, 2745 Meramec Street
Gambrinus Hall, 3650 Wisconsin Avenue
9th Ward
11th Ward
Woodard Elementary School, 725 Bellerive Boulevard
13th Ward
Long Middle School, 5028 Morgan Ford Road
The 9th, 11th, and 13th Wards have additional polling places that generally serve areas outside of the Greater Dutchtown neighborhood. Again, make sure to look up your polling place to be sure you're going to the right location.
Return to the table of contents.
Know Before You Go
A photo ID is not required! A paycheck stub or current utility bill with voting address is acceptable.
If you have limited mobility you may be able to vote "curbside" or outside the polling place. You should go to your polling place and ask someone to go in and ask poll workers to bring a ballot out to you. The poll workers should bring you a ballot within a reasonable period of time.
If you are turned away at the polls for any reason, make sure the election judges call the City Election Board. If they still cannot confirm that you are able to vote, they are still legally required to offer you a provisional ballot. Before accepting a provisional ballot, call 1-866-OUR-VOTE (1-866-687-8683) to discuss options.
If you have been convicted of a misdemeanor or felony, but have completed your sentence (including probation or parole), you ARE eligible to vote, but will have to re-register. If someone you know is in jail on pre-trial detention, they have the right to vote absentee.
Return to the table of contents.
Voter Registration
First-Time Voter
If you're registering to vote for the first time, in addition to your registration form, you'll also need to provide some kind of identification. Acceptable forms of ID include:
Valid photo ID
Utility bill
Bank statement
Paycheck
Government check
Birth certificate
In box 3 of the application, you'll check the "new registration" box.
Make sure that you provide your actual home address in box 5. If your mailing address is different, you can enter that information in box 6.
Updating Your Registration
If you've moved since the last time you registered to vote, you'll need to update your voter registration. If you've moved within the City of St. Louis, in box 3 you'll check the "address change" box. If you moved from another jurisdiction (for example: moved from St. Louis County to St. Louis City), you should check "new registration" in box 3. If you're unsure, check "new registration."
Make sure that you provide your actual home address in box 5. If your mailing address is different, you can enter that information in box 6. In box 12, you'll be asked to provide the address where you were previously registered to vote.
All Registrations
If you have a driver's license, you are required to enter your license number in box 7. If you have a Social Security number, you are required to enter the last four digits of your SSN in box 8. You are required to enter your date of birth in box 9.
Your place of birth and phone number (box 10 and box 11) are not required.
In box 13, acknowledge that the information you have provided is correct, then sign and date your application.
Where to Register
You can check your registration status or register to vote on the Missouri Secretary of State's website.
You can get a PDF voter registration application from the City of St. Louis website, then print and mail the form.
Or you can register in person at the following locations:
Inactive Voter List
You may want to verify that you are not on the Inactive Voter List. If the Board of Elections can't verify your address, you may end up on the list. To check whether you are on the list, visit the Board of Elections website.
You are allowed to vote, even if you are on the Inactive Voter List. Some extra steps will be required when you go to vote, so please allow yourself additional time.
Return to the table of contents.
Voting Absentee
Voters who expects to be unable to visit their regular polling place on Election Day are eligible to apply for an absentee ballot. Acceptable reasons for voting absentee include:
Absence on Election Day
Incapacity or confinement due to illness or disability
Religious belief or practice
Employment as an election authority (does not apply to campaign workers)
Being incarcerated (provided all qualifications for voting are retained)
You can download an absentee voting application and find additional instructions on the City's website.
Absentee ballots can be delivered to the Board of Elections in person or submitted by mail. Visit the Board of Elections website for complete details.
Return to the table of contents.
* The information provided on this website is in no way intended to reflect an endorsement for, or opposition to, any candidate, political party, or ballot issue by DT2 • Downtown Dutchtown, the Dutchtown Community Improvement District, or any other organization. This information is provided strictly for the purpose of voter education. Back to the top.
Top photo by Paul Sableman.