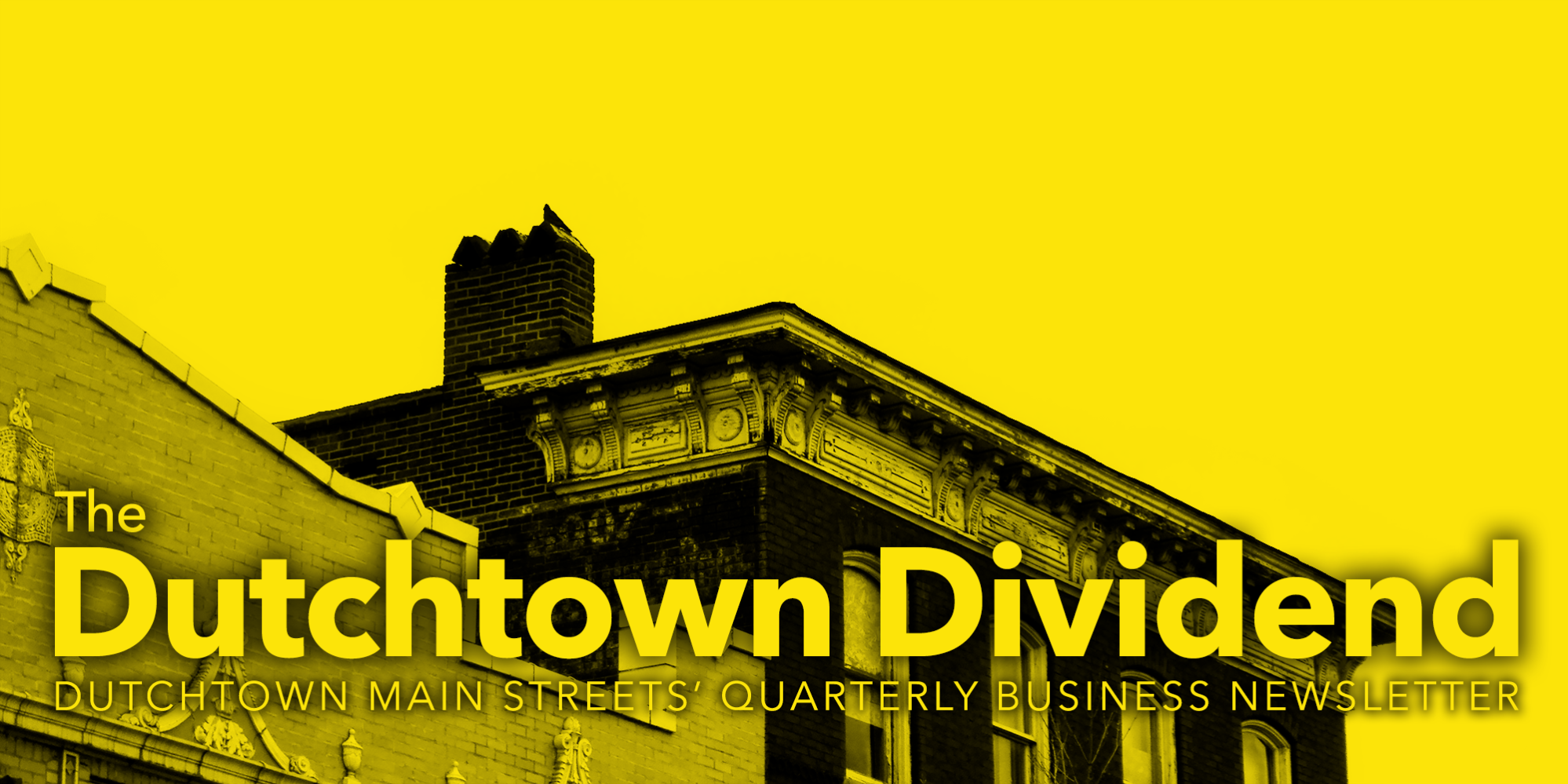 Welcome to the first issue of the Dutchtown Dividend, a quarterly newsletter for the Dutchtown business community! We're here to keep you posted on what's going on at Dutchtown Main Streets and to let you know about resources and opportunities available to local businesses. If you'd like to get these updates in your inbox, email us at info@dutchtownstl.org.
An Introduction from Our President
Hello Dutchtown Business Community!
I'm Nate Lindsey, President of Dutchtown Main Streets. While I have known many of you for years, I'm excited to formally introduce myself (especially to those I don't know well) and provide some information about my work with Dutchtown Main Streets. I'm especially excited to do this through the first edition of the Dutchtown Dividend, a quarterly publication specifically for our small business community.
I'm a transplant to St. Louis. After graduating from the University of Kansas School of Law in my hometown of Lawrence, Kansas, I started my career as an associate at Rasmussen Dickey Moore's Kansas City office and two short years later found myself packing up and heading to St. Louis to open up a new office branch. I moved here to better position our firm to serve clients in litigation hotspots in the area including the City of St. Louis and Madison County, Illinois. My practice involves representing businesses and professionals when they are sued or otherwise need legal counseling.
Very shortly after I moved away from all my friends and family in the Kansas City area, I met my wife Staci Harvatin. I was living in a loft downtown and Staci owned a house in Dutchtown near St. Mary's High School. To make a long story short, Staci and I fell in love and started our family surrounded by support in the Dutchtown neighborhood. Initially, that was through our church St. Anthony of Padua, but we soon fostered connections with Downtown Dutchtown, the business association, and then many business owners and neighbors in the area.
What we found was a community filled with builders and hope. Despite Dutchtown's challenges and many decades of disinvestment, the people living in Dutchtown seemed to always be looking out for one another and trying to raise up a struggling community. This is the reason we committed to raising our family here—because we truly believe our neighbors are uniquely incredible in their kindness and resolve for each other. Dutchtown is our home because it is made up of builders, and consequently it's a place where we want to build our life. As a result, Staci and I made our first long-term commitment to the neighborhood by rehabbing a vacant house at the corner of Meramec and Louisiana. Without hesitation, we called it our "forever home." In the coming years, we moved both our mothers into Dutchtown and also welcomed our two sons Thaddeus and Francis.
Since 2016, I have been active in what was formerly the Downtown Dutchtown Business Association (turned 501(c)(3) after the passing of the Dutchtown CID, and now known as Dutchtown Main Streets).  I currently serve as the Board President and a co-chair of our Economic Vitality Committee. The Dutchtown Economic Vitality Committee focuses on strengthening Dutchtown's existing businesses and economic activity while also expanding and diversifying our economic base with new investment. 
With that in mind, I'd like to thank you for reading the inaugural Dutchtown Dividend. The Dutchtown Dividend will be a publication put out quarterly by the Economic Vitality Committee. Our goal will be two-fold: (1) to keep our small business community informed of what Dutchtown Main Streets is working on and (2) to provide information on available small business resources and opportunities for our small business community. As small business owners, you all are the owners of stock in Dutchtown and Dutchtown Main Streets.  Thank you for your work, thank you for your time, and most importantly, thank you for the hope we share in the future of a Dutchtown where our businesses and neighbors thrive together.
Thanks for reading!
Nate Lindsey
President, Dutchtown Main Streets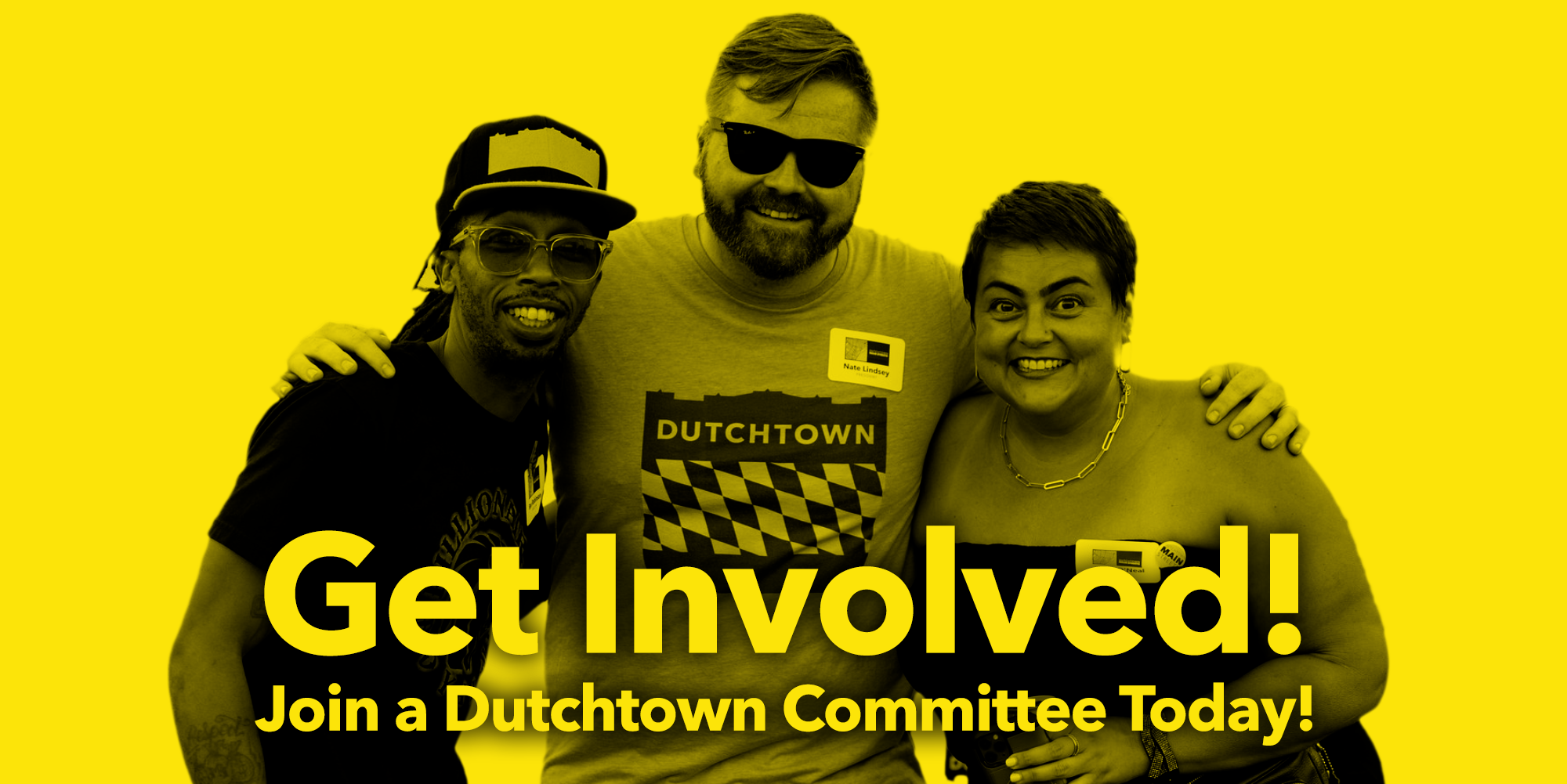 The Dutchtown Main Streets Comprehensive Action Plan
Dutchtown Main Streets is incredibly excited to implement its first Comprehensive Action Plan in 2022. You can find the full detailed plan at this link, but we wanted to highlight some of the upcoming projects each of the Dutchtown Main Streets committees will be working on in the first quarter of 2022 and beyond!
Promotion Committee
The Promotion Committee will be working with Dutchtown South Community Corporation on another Go Dutch! event where we will be co-promoting real estate opportunities with an eye toward first-time homebuyers! Dutchtown is an incredible place for starter homes for young families given its affordability and we want to encourage renters who want to own in Dutchtown to find the resources to do so!
Additionally, the Promotion Committee is also interested in working with our small business partners to continue the very successful sidewalk sales we saw in 2021. If you need graphics, advertising, or other help from the promotions committee to put on your retail-related event please contact promotion@dutchtownstl.org.
Design Committee
The Design Committee is launching a mini-facade grant program. They will also continue their ongoing work to foster clean streets with the help of the Dutchtown CID, Employment Connection, and the Neighborhood Beautification Team. We are looking for opportunities to partner with businesses on local cleanups as well, so if you are interested or have ideas please reach out to design@dutchtownstl.org.
Looking further out, Dutchtown Main Streets will be seeking funding for destination branding and wayfinding this year to increase our neighborhood pride and awareness and hopefully direct newcomers to our neighborhood businesses and attractions.
Economic Vitality Committee
The Economic Vitality Committee is now charged with the Dutchtown Dividend quarterly update to our business neighbors—you're reading it right now! The committee will continue to promote resources on our Dutchtown Business Owners Facebook page as well. We're also excited to begin work on mapping and marketing some of the commercial vacancies in our neighborhood thanks to a consulting and services grant from Missouri Main Street Connection.
Later this year, Economic Vitality plans to partner with Lutheran Development Group on a local job fair in the spring. The committee is also planning a Business Roundtable event in which we bring in financial, legal, and small business resources for planned "Ask Me Anything" style consulting. If you've got ideas for consultants or thoughts on how to make this a successful event, please reach out to us at ev@dutchtownstl.org.
Organization Committee
Finally, the Organization Committee, with the help of the Promotion Committee, is preparing an annual report highlighting what Dutchtown Main Streets accomplished in 2021. The Organization Committee also seeks to recruit new volunteers for 2022. If you're interested in volunteering at events or tabling for Dutchtown Main Streets, you can contact organization@dutchtownstl.org.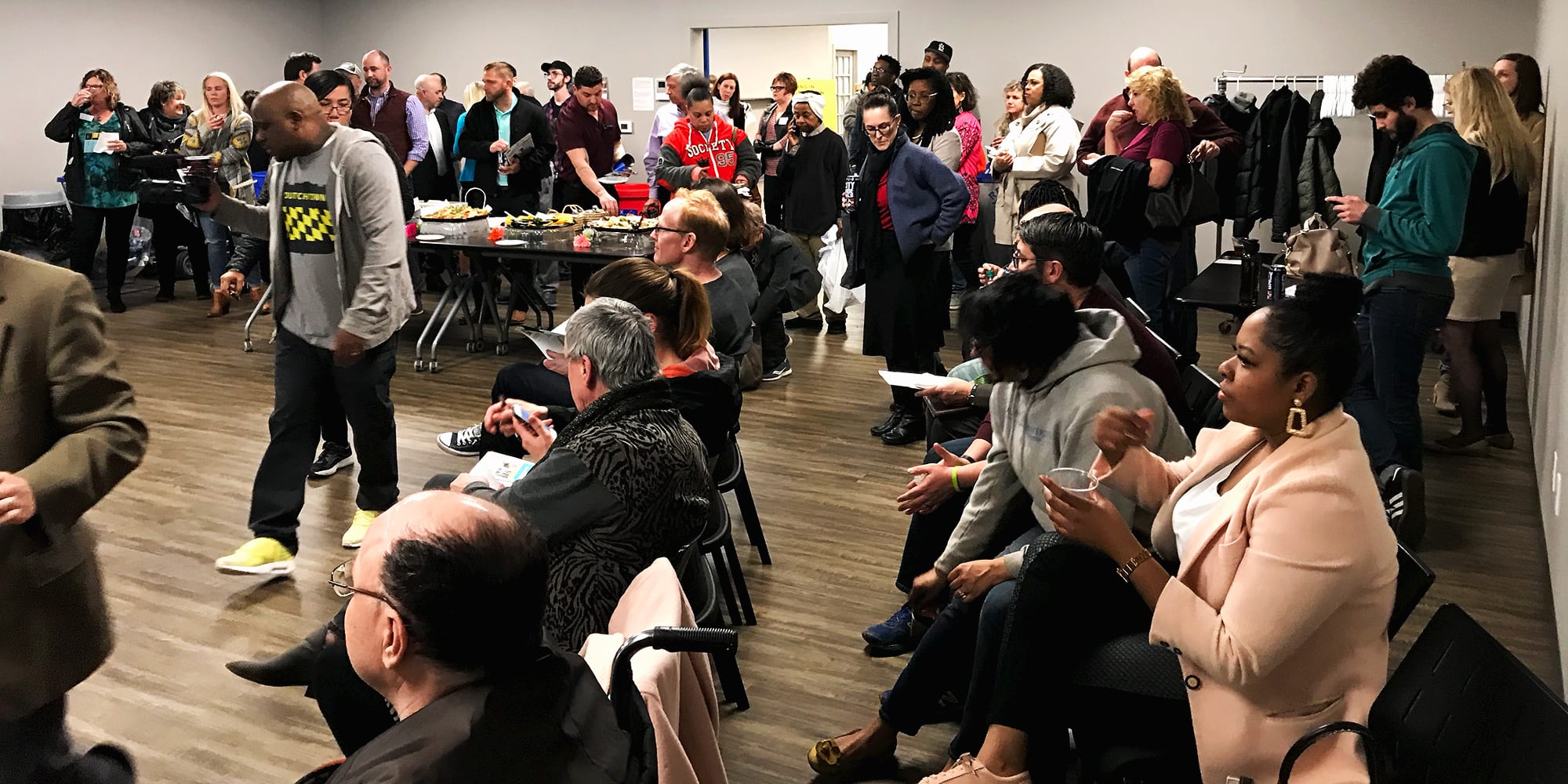 Upcoming Dutchtown Events
Here are some highlights of what's happening soon in Dutchtown. Whether you're looking to get involved with Dutchtown Main Streets or just want to have some fun, there's plenty to do in our neighborhood! Visit the Dutchtown Calendar to see everything that's coming up.
Go Dutch!
Wednesday, March 16th at 5:30pm • Habitat for Humanity, 3830 South Grand
If you're looking to call Dutchtown home, come find out how to make it happen at our Go Dutch! housing event. We'll have resources for first-time homebuyers, low- and moderate-income buyers, renters, and anyone else curious about putting down roots in Dutchtown.
Virginia Avenue Spring Fling
Saturday, April 21st, all day at the VAL Garden at Virginia and Liberty
Celebrate spring with a neighborhood-wide block party! Everyone's invited to come out for barbecue, beverages, and fun for the whole family.
Dutchtown Committee Meetings
At this time, all committee meetings are planned to be virtual. Keep an eye on DutchtownSTL social media pages to find out if in-person opportunities will become available as well.
Economic Vitality Committee
Every second Tuesday at 6pm (March 8th, and April 12th, May 10th)
Join online via Microsoft Teams at dutchtownstl.org/evmeeting
Email the committee at ev@dutchtownstl.org
Promotion Committee
Every second Thursday at 6pm (March 10th, April 14th, May 12th)
Join online via Microsoft Teams at dutchtownstl.org/promomeeting
Email the committee at promotion@dutchtownstl.org
Organization Committee
Every third Tuesday at 6pm (March 15th, April 19th, May 17th)
Join online via Microsoft Teams at dutchtownstl.org/orgmeeting
Email the committee at organization@dutchtownstl.org
Design Committee
Every third Thursday at 6pm (March 17th, April 21st, May 19th)
Join online via Microsoft Teams at dutchtownstl.org/designmeeting
Email the committee at design@dutchtownstl.org
Neighborhood Business Events
Meramec Magic
Every Saturday in Downtown Dutchtown
Visit Downtown Dutchtown for a mini-festival every Saturday! Enjoy live entertainment while you shop the eclectic shops of Downtown Dutchtown and chow down on snacks from the unique eateries at the Urban Eats Neighborhood Food Hall. Merchants will offer product demonstrations, samples, and activities.
Spring Sidewalk Sale
Friday, March 25th and Saturday, March 26th in Downtown Dutchtown
Join the merchants of Meramec Street for the second annual Spring Sidewalk Sale! In addition to shopping and special deals, there will also be raffles and prizes, community resources, kids' activities, and more. Shop Downtown Dutchtown on Friday and Saturday from 10am to 5pm.
Other Notable Events
Tech Support Café
Saturday, April 14th, 10am to 2pm • Thomas Dunn Learning Center
Laptop lagging? Tablet trouble? Phone on the fritz? Come to FreeSource's Tech Support Café for free peer-to-peer IT support. Keep your devices running, learn how to troubleshoot issues, and find out more about how your gadgets and features work. Find out more here.
Save the Date
The Dutchtown Summer Vibes street festival is returning to Downtown Dutchtown on Saturday, June 4th! Join us for shopping, live music, food and drink, and much, much more. If your business would like to sponsor the event or otherwise participate, please let us know at promotion@dutchtownstl.org.
Dutchtown Movie Nights will also be returning to Marquette Park this summer! Sponsorship opportunities are available. Again, contact promotion@dutchtownstl.org to find out more.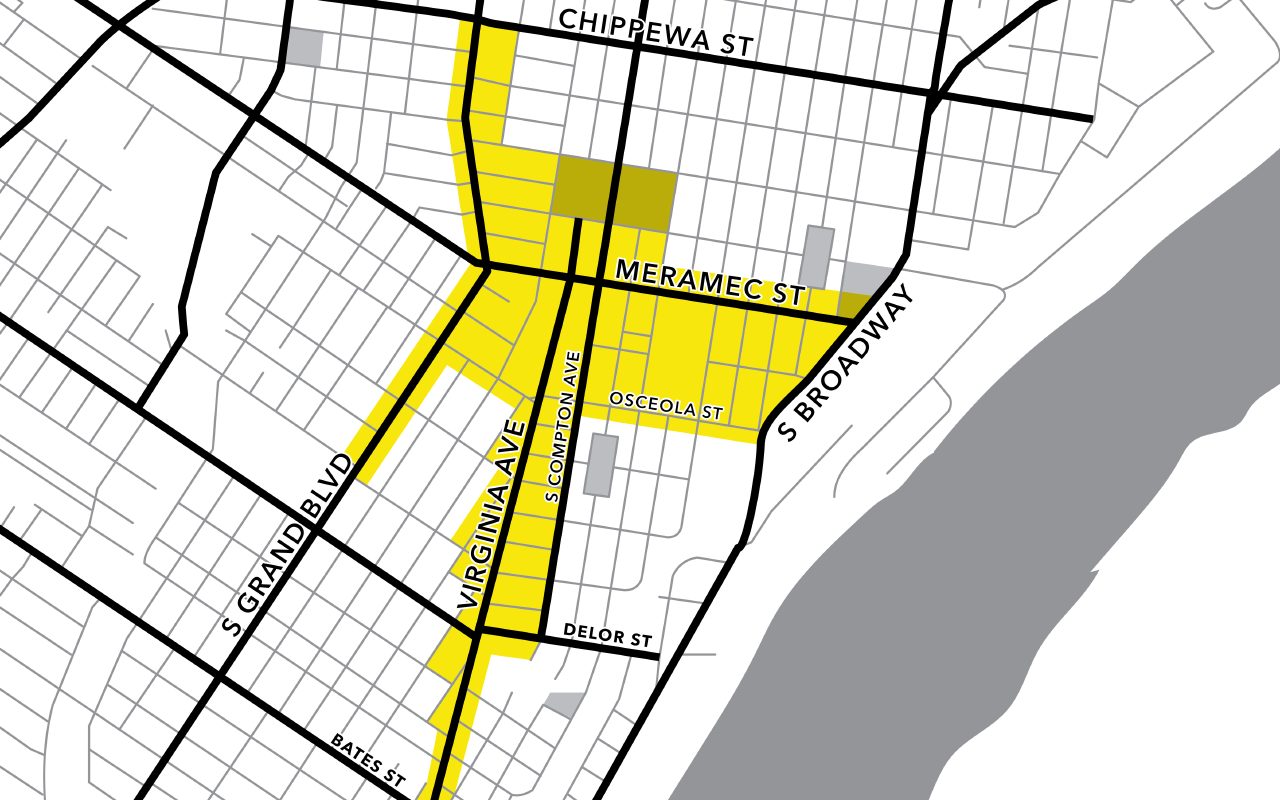 The Dutchtown Main Streets Target Area
As part of our partnership with Missouri Main Street Connection and the St. Louis Main Streets Initiative, Dutchtown Main Streets developed a target district for our economic development work. By setting this target area, we can better assess strengths and needs and measure outcomes as we implement our Comprehensive Action Plan. The target area establishes a baseline for collecting data on commercial activity, occupancy and vacancy, public and private investment, and other key indicators. With that data, we will hone our services and programs to better serve the Dutchtown community.
The target area spreads across the main commercial corridors of Dutchtown—Meramec Street, Virginia Avenue, and South Grand Boulevard—and is focused around Downtown Dutchtown, the historic business district centered around the intersection of Meramec and Virginia.
But it should be noted that even if your business or residence isn't located in the designated target area, Dutchtown Main Streets is here to help you! Whether you're a long-time business owner in the heart of Downtown Dutchtown, a new upstart venture on Chippewa, or an interested resident from anywhere across Greater Dutchtown, we're excited to partner with you to build a thriving neighborhood and shared prosperity for all. We believe every street in Dutchtown is a Main Street.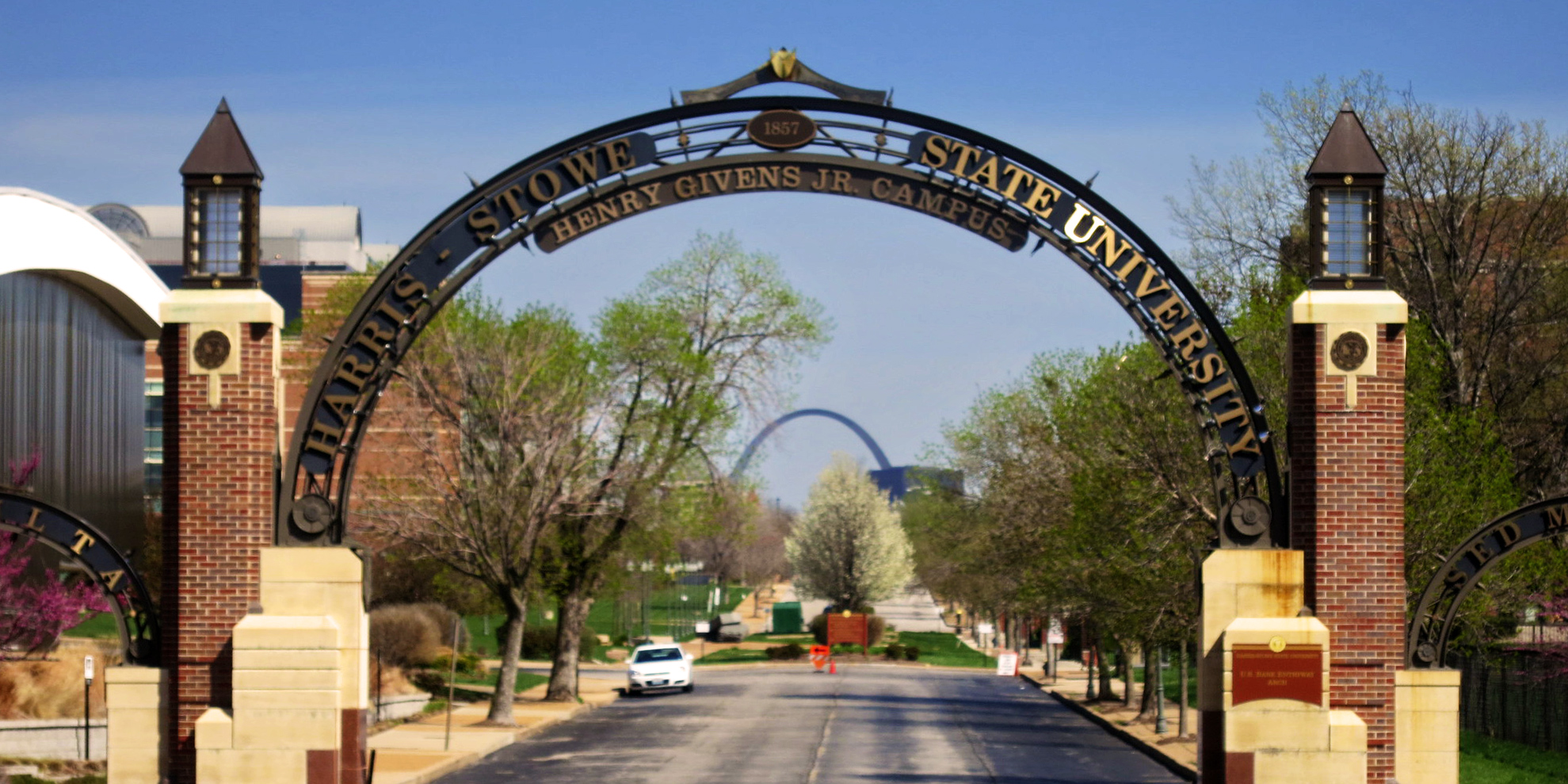 Harris-Stowe and PNC Team Up to Promote Black Entrepreneurship
Harris-Stowe State University has received a $450,000 grant from the PNC Foundation to establish E3 Powered by PNC, an initiative aimed at reducing disparities faced by Black-owned startups by promoting entrepreneurship and economic empowerment. The program will be housed at Harris-Stowe's Minority Entrepreneurship Collaborative Center for Advancement (MECCA), part of the university's new Center for Innovation and Entrepreneurship.
According to the STL 2030 Jobs Plan, closing these economic gaps would have a monumental impact on the St. Louis economy. If Black St. Louisans established businesses at the same rate as white residents, it would create 8,000 new businesses and 66,000 jobs.
However, across America, only 2.4% of venture funding went to startups founded by Black or Latino people. "This collaboration will help cultivate opportunities and meaningful change within St. Louis' startup environment," said Michael Scully, PNC regional president for St. Louis.
Services to be provided by E3 Powered by PNC include:
Education and training on business planning, marketing, and financial management
Pitch training and competitions
Minority entrepreneurship-focused events
Financial education for minority high school and college students
"HSSU is committed to fostering the growth of emerging entrepreneurs and future business owners from underserved communities, and this initiative will help us deliver on this important mission," said Dr. Stacy Hollins, dean of the Anheuser-Busch School of Business at Harris-Stowe.
PNC Bank recently announced an $88 billion community benefits plan. Within the plan, $1 billion has been pledged to increase economic empowerment initiatives for Black, low-income, and moderate-income communities.
As a majority Black, low-income neighborhood, we're excited to see the potential impact the E3 Powered by PNC initiative might bring to Dutchtown. Dutchtown Main Streets shares the goal of empowering our neighbors to establish thriving businesses in our neighborhood, and we're ready and willing to help find opportunities to set up shop in Dutchtown. Going forward, we hope to work closely with PNC to raise up the community around their South Grand branch.
Harris-Stowe photo by Paul Sableman.